Saturday 22nd March 2014
Airnadette
Theatre de l'Etang, St Estève
20h30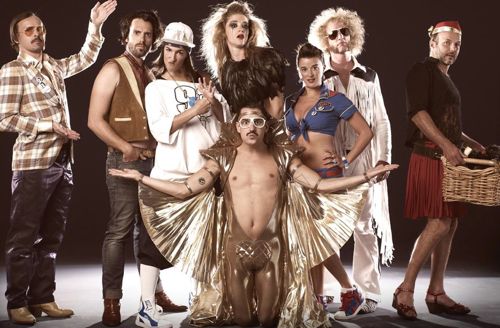 If you are a fan of the airguitar, this is definitely a show for you!
In October 2011, this airband presented Comedy Musiculte, a show of fifteen different tableaux following the "almost true story " of the group.
The Airnadette have put together a collection of tunes, songs and excerpts from cult films of the past 40 years!
From " Père Noël est une ordure " to Britney Spears, Florent Pagny, they play the guitar without a guitar, have a hairbrush microphone , tap on invisible drums ….
And if you're a little bit in the dark where air guitar is concerned, Wikipedia describe it as 'a form of dance and movement in which the performer pretends to play rock or heavy metal-style electric guitar, including riffs, solos, etc. Playing an air guitar usually consists of exaggerated strumming and picking motions and is often coupled with loud singing or lip-synching. Air guitar is generally used in the imaginary simulation of loud electric, or acoustic guitar music.'
Get strummin' guys!