Argeles underwater!
By Ellen Turner Hall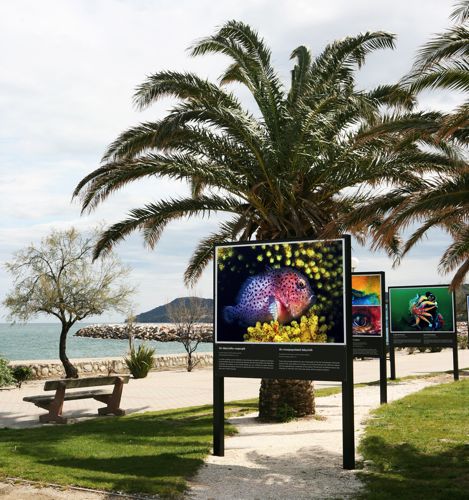 "Planète Mers", this year's photographic exhibition on the grand promenade at Argeles Plage, plunges us underwater from 2 April to 25 September. The message is: how we treat 75% of the earth's surface determines the future of 25% on which we live.
Fact check as you make your way around the exhibition:
1. What marine animal construction is visible from outer space?
2. What is the fastest predator in the world? Hint: NOT the cheetah!
3. Which mollusc produces active molecules against viruses, bacteria and cancer cells?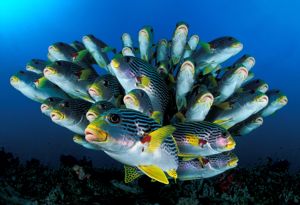 Inspired by the book "Planète Mers" by Laurent Ballesta, the images on display help us discover the incredible variety of submarine life. Ballesta, marine biologist and underwater photographer, offers a fish's eye view of what lies below the surface. Holder of the world record for deep-dives, Ballesta illustrates the biodiversity of the seas' deeper and lesser known regions all over the world.
Close to home, in the nature reserve off Banyuls-sur-Mer, in 1997 Laurent Ballesta was the first person to photograph the 3-centimetre Andromeda goby. From the discovery of this tiny fish grew Ballesta's lifelong passion for the creatures of the seas. About one fifth of the exhibition is devoted to local species( velvet swimming corals, yellow tube sponge, anemone shrimp, grey trigger fish, leopard-spotted goby and the familiar salema fish, with its silver body and yellow stripes) found in our own Golfe du Lion.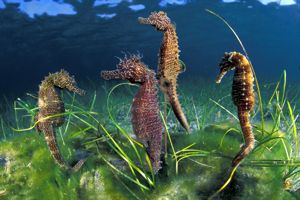 Information panels include captions in French and English, often with evocative titles. "Don't Walk on the Grass" shows the Jordanian reef stone fish completely covered by seaweed which grows on its rough skin, creating the perfect camouflage. "Red Gold in the Mediterranean" refers to the branching red skeletons of coral near Cerbère. "Outer Space Adventure" describes the comb jellies of the Canadian Arctic which resemble LED-lit comets beneath the ice. We wonder at the strangeness of plant-like animals (the tentacled Mediterranean gorgon's head), animals which seem to have roots (the quill-like orange sea pen) or animals with leafy growths (the implausible Australian weedy sea dragon).
Today this enchanted world of fabulous creatures is in peril, threatened by climate change, pollution and over-fishing. "Planète Mers" hopes that this insight into the beauty and variety of marine life will inspire you to join efforts to protect the seas. In the end, saving our seas means saving ourselves. A variety of "green" activities for you and your family is proposed by Les Naturales. Take the plunge!