1st -11th October 2014
Art Exhibition from Marie Chantal.
Galerie d'Art Milliou.Cat, Céret
by Vicky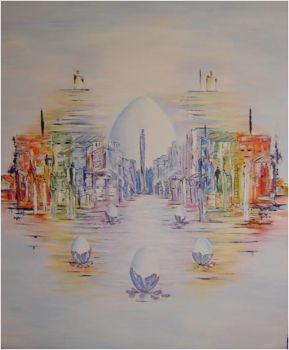 Marie Chantal de Peretti, born in 1949 and living in Ceret, has painted since 1990, having taken courses in art.
She began exhibiting in 1996, in this region, Corsica, Belgium and especially Ceret. After a few years of trial and error Marie Chantal found her unique style: a painting that catches the eye and wraps it in an almost metaphysical atmosphere through a symbolism that makes a complete break with the everyday.
Marie Chantal has also been very involved in rescuing dogs in the area for the last 10 years. Most of the profits from the sale of her paintings are used to fund vets bills etc for the rescue dogs.
I have known Marie Chantal personally now for some years and have already seen a lot of her work. I love her paintings because there is so much to see in each one, you can really lose yourself in them and although her style is modern, they are beautiful works of art that would not look out of place in the average home.
Open: Monday – Sunday 10am-12 & 3-7pm