Saturday 14th – Sunday 22nd June 2014
Expo d'été des artistes de Port-Vendres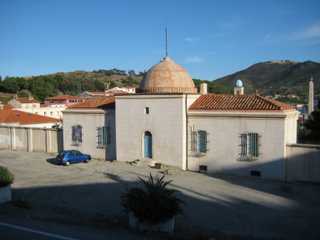 The first Summer Exhibition of Port-Vendres artists, bringing together some 28 painters and sculptors, including a dozen professionals, will open on Saturday; 14 June at 10 am. Vermeille Internationale, an association formed to bring together expats and local residents to run fundraising events for charity, has asked artists to agree to give 10% of all sales to Medecins Sans Frontières and artistic projects at the primary school in Port-Vendres.
The exhibition will run until 22 June at the Dôme (opening hours 10.00 to 12.30 and 14.00 to 19.00) and will be marked by a number of events, at which all are welcome.
– Private View : Saturday 14 June at 18.00
– Garden Party in the gardens of the Dôme, Wednesday, 18 June, (cold drinks and cakes)
– Nocturne at the Exhibition on Friday 20 June fro 20.00 to 22.00 with music in the garden of the Dôme.
Le Dôme – Port Vendres

With Michael Brady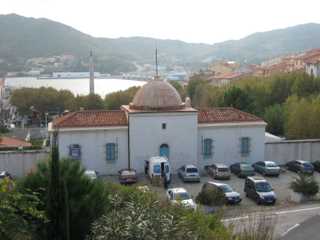 From assemblies of legislatures that convene under them to zoological collections housed by them, domes signal unusual venues round the world. France has many, including Le Dôme restaurant, an Art Déco masterpiece on the Left Bank in Paris, Le Dôme Théâtre in Albertville and the ultramodern Le Dôme entertainment centre in Marseille. Though of lesser fame, Le Dôme in Port Vendres sets itself apart from its namesakes by having the most curious of dome histories.
Designed in the late 18th century by royal architect Charles de Wailly as one of the grand buildings contiguous with Place de l'Obélisque at the harbour, the neoclassical Le Dôme originally was meant to be a hotel for foreigners. It must have done poorly at that, as in 1835, five years after Port Vendres became the principal port for dispatching soldiers and supplies to the French colony in Algeria, Le Dôme was given to the Army as a flat for the military governor of the adjoining barracks. It fulfilled that role for some hundred years.
Partly destroyed during the Second World War, Le Dôme was restored afterwards as an art and culture centre. The restoration was visionary, as today Le Dôme offers a pallet of exhibitions, concerts and other cultural events, peaking in summer. Inside, the chalk-white walls impart an aura of veneration to works displayed, and the lower-level garden facing l'Obélisque affords a splendid view of the harbour as well as superb acoustics for concerts held there.
At the garden level there's a small, permanent gallery dedicated to the works of Charles Rennie Mackintosh, the famed early 20th century architect, designer and artist. The location is fitting, as in 1923, the scenes in and around Port Vendres prompted him to devote himself entirely to painting.
Opening hours throughout the year are 2:30 to 7:00 pm, or longer for special events. For the schedule of upcoming events, contact the Port Vendres Office de tourisme Tel 0468820754 or the Mairie Tel 04 68820103