Saturday 7th September 2013
Fete des Vendanges, Thuir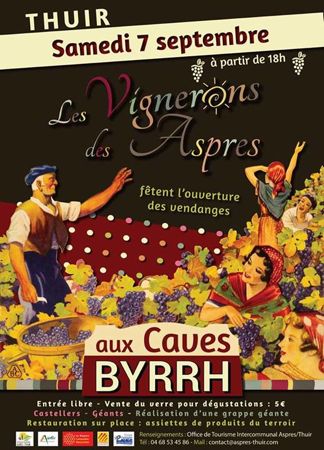 On the 7th September Les Vignerons des Aspres are holding their first major wine fair.
It's taking place in the impressively renovated Caves Byrrh in Thuir.
There will be 18 wine producers from the Aspres region. This is the hillside vineyard area bordered by Le Boulou, Thuir and Pollestres. It's a sub-region with a diversity of quality wines, which already has its own AOC "Les Aspres" and will be elevated to "Cotes du Roussillon Villages, Les Aspres" in 2014. Wines to suit all budgets will be on sale.
As well as wine, the event will feature live music and performances. There will also be a range of local food producers and traiteurs selling plates of charcuterie, cheese and other delicious regional delights. Of course visitors will be able to enjoy the amazing interior of Caves Byrrh, home of the worlds largest oak barrel.
The event runs from 18:00hr to 21:00hr. Entry is free and tickets to taste the wines cost 5€, which includes a commemorative glass.