THURSDAY 24TH OCTOBER 2013
Barlande
Le Théâtre Municipal – Perpignan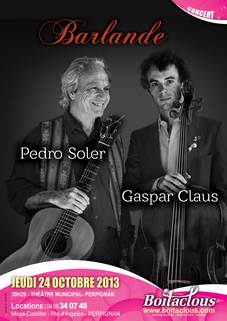 Barlande tells the musical story of a father and son: Pedro Soler, 75, and Gaspar Claus, 30, two generations separated by four decades.
Father and son talk to each other through their instruments. Their music combines an ancient way of playing flamenco guitar with a non-traditional approach to cello. Both quiet and intense, the flamenco is based on ancient technique learned from masters, in exile after fleeing Franco's Spain.
In fact, through the 1930s, '40s and '50s, Soler grew up in Toulouse, amongst many thousands of Spanish Republican refugees. It was in this way that he began to understand the meaning of flamenco.
Son Claus began formal cello studies at a young age, but became fascinated more by the improvisation and non traditional sounds that he could produce.
The first album from this father and son collaboration is called Barlande and is based upon the close relationship in which two men — father and son — sit and talk through music.
Espace billetterie boitaclous
Méga Castillet-ZAC Mas Balande
Rte d'Argelès 66100 Perpignan.
Tél. 04 68 34 07 48