Fête de la St Côme et St Damien, Argelès sur Mer
---
17th September 2016

-

25th September 2016
Event Navigation
Every year, towards the end of September, Argelès-sur-Mer pays homage to its patron saints, Saint Côme and Saint Damien, twins and early Christian martyrs, who healed the sick for free.
According to legend, Argelès was struck by plague in the 17th century, an epidemic which disappeared on 27th September 1652 – the feast of the patron saints – and on which day the population made a vow to carry out a solemn procession to honour them every year…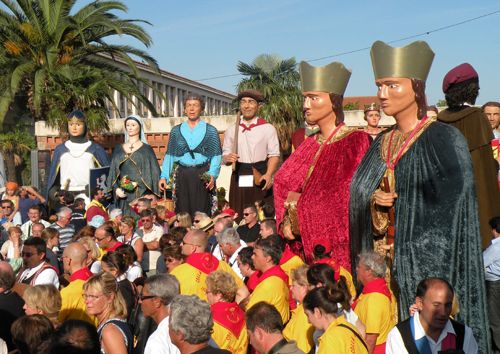 Starting with a variety of activities, the festival ends in a long weekend of different events and entertainment, sardanes, castellers, and bals, crashing to a grand finale on Sunday 30th September with the parade through the streets of the Giants and Big-Heads (gegants i capgrossos.) from North and South Catalonia when more than 50 giants dance in the streets!
Gegants are enormous figures, sometimes 14 or 15 ft tall, with painted papier-maché heads and arms. Dressed in traditional clothing, they are built on a frame with a person inside, controlling the movements as the giant dances and sways.
Most towns have their own giants. They usually appear in couples, often as king and queen, or some other important person from the town's history. They go out during the patron saint holiday of the town (Festa Major) or on special days, and dance in the streets with  "big-heads" or "cap-grossos",  smaller figures, with oversized heads, who parody local characters. These big headed fellows  will often carry a whip or pig bladder, to frighten the children!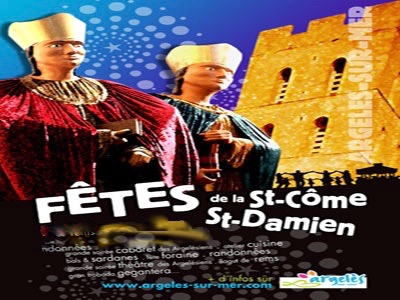 HIGHLIGHTS 



SATURDAY 17TH
Tea Dance with  PASTO GUINGUETTE Band.
Info:  Marc Renault 06 21 23 35 68 Tout public – Participation: 6 €
Doors open at 14h15
SUNDAY 18TH
Gran Trobada Gegantera
Meeting of the giants and Caps grossos (grosses têtes) from all over Catalogne. More than 50 Gegants will dance and entertain in the streets. FREE.
Expo of Gegants.
All day – Village
Parade….avenue Molière, avenue de la Libération, rue du 14 Juillet, rue Jaurès, place de la République, rue de la République, avenue de la Libération, route Nationale, rue Emile Zola, rue Victor Hugo, avenue de la Libération, avenue du Marasquer.
FRIDAY 23RD
Grand Cabaret des Argelésiens
Spectacle préparé et interprété par des Argelésiens avec musique chant, humour, magie et danse.
21h – Espace Jean Carrère – Village
SATURDAY 24TH
Théâtre des Argelésiens with Les 3 Coups. Quality amateur theatre. sketches and scénettes. (Entrance fee in aid of the Téléthon).
19h – Cinéma Jaurès – Village
Fireworks
22h30 – Church bell tower, Village
SUNDAY 25TH
Mass with cobla Nova Germanoret les Chanteurs Catalan
10h30 – Eglise ND Del Prats – Village