Stars 80, Perpignan
---
17th December 2016
|
51€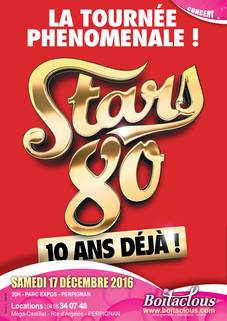 Stars 80 light up the stage at Parc des Expositions, Perpignan
An evening of glitz and glam, big voices and bigger hair; dust down your shoulder pads, we're going back to the decade of excess with Stars 80!
Allow yourself to be transported back to a time when the internet was a military rumour, computers were the size of your living room and the only thing shinier than your jewellery were your leggings!
A host of live singers, dancers and performers will bring the Parc des Expos to life for an evening of high-octane energy and good, clean fun.