Friday 18th July – Friday 27th August 2014

FESTIBAGES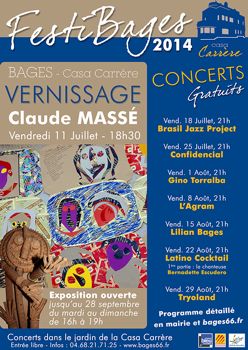 A series of six free concerts at 21h, every Friday evening in Bages, in the magnificent gardens of the Casa Carrère, built in 1954 as a private residence, turned into an art gallery in the 90s, and bought by the commune in 2006.
JULY
FRIDAY 18TH
Brasil Jazz project
Jazz, bossanova and original compositions…
FRIDAY 25TH
Confidencial
Pop rock
AUGUST
FRIDAY 1ST
Gino Torralba
Blues rock and pop…
FRIDAY 8TH
L'Agram
Catalan roots
FRIDAY 15TH
Lilian Bages
North American crooner takes you through the hits of yesteryear

FRIDAY 22ND
Latino Cocktail
Jazz
FRIDAY 29TH
Tryoland
Latino, swing, rock…
More info:
Tel: 04 68 21 71 25
Bages, or "Baiae" (meaning water) as it used to be known, was originally a settlement of fishermen living on the edge of the boggy lake. 'A Bages, no hi vagis !' (Don't go to Bages!) was regularly heard. The Templier knights dried up the lake and the village that grew up there became Bages – now definitely worth a visit.
Pop into Le Chaudron, 18th Century Catalan Pub, Shop and Tapas bar, for original, regional gifts, live music every Saturday night, Catalan beers and wines that you've probably never heard of….
Tel: 06 21 64 80 76
www.lechaudron-roussillon.fr
1 rue du cinema, Bages