Les Nuits du Palais – Aux frontières du Jazz
Gardens of the Palais des Rois de Majorque – Perpignan
Every Friday throughout July, the gardens of the imposing Palais des Rois de Majorque in Perpignan ring out with the sounds of jazz. All concerts take place at 21h30.
Friday, July 20th 2012 – 21h30
ONE MORE TIME PAPA

A young jazz fan of 15 (Renaud Perrais) takes clarinet lessons with his next door neighbour, who is none other than the French jazz great, Claude Luter, and who quickly sets the young man in the footsteps of Sidney Bechet and Duke Ellington.
A few years later, Renaud meets trumpeter Eric Luter, Luter's son, and they embark together on a project based around the compositions of Claude Luter – the 30s when jazz was both music and an art form.
And so was born the sextet MORE TIME PAPA, homage and a tribute to the music of Maestro Claude Luter.
Friday, July 27th 2012 – 21h30
NICO WAYNE TOUSSAINT QUARTET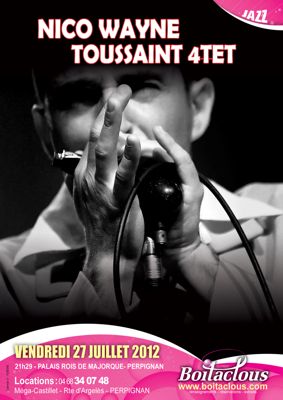 Harp playing blues vocalist, Nico Wayne Toussaint has been traveling to and fro with his quartet between the United States and Europe for twenty years.
Elements of James Cotton's dirt harp sound, the more swing embellishments of Charlie Musselwhite style. a subtle blend of Paul Lamb and Rod Piazza, the late Willima Clarke…..
With several albums under his belt ("It is so good," "Transatlantic Live" Southern Wind Blowin '") and a nice collaboration with the label Dixiefrog Records, this french blues artist has created a personal vocal and performance style of Chicago blues,.
Born in 1973 in Toulon, France, he first came across the blues when he was 15, through Muddy Waters'record "Hard again" featuring James Cotton on harp. Since then, the wildness high energy of James Cotton's playing have always been his musical credo.
With explosive concerts and sheer talent, he's managed to build a solid reputation in France and around the world with his on stage charisma and music of America's deep south, peppered with African, Lousianan, and jazzy spices.
Boitaclous – Méga Castillet – Route d'Argelès – Perpignan – 04 68 34 07 48 – www.boitaclous.com
Tarif normal 10€ – Tarif plaisir 5€
44 rue Foch – 66000 Perpignan
04 68 51 85 21)]