Monday 17th June 2013
WHY I CHOSE TO MARRY THE DEVIL'S BRIDGE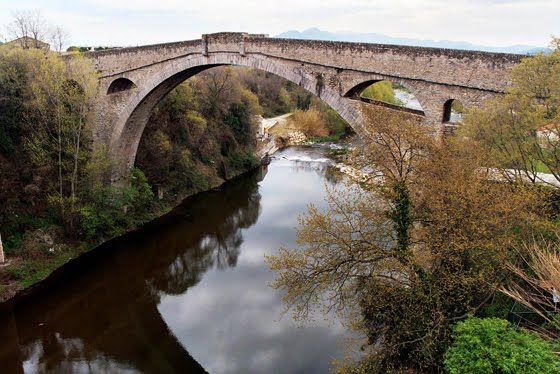 After 10 years of searching for my perfect bridge, I finally chose to marry the Pont de Diablo for his dark and mysterious history. Strong and silent, he is the ideal husband for me.
Celebrate this artistic journey across many bridges… until I found the "One!"
INVITATION
A wedding is announced between Jodi Rose & Le Pont du Diable 3pm, Le Pont du Diable, Céret, France
WEDDING CEREMONY
The wedding takes place on Monday 17th June, Pont du Diable, Céret, France in an intimate ceremony. Personal friends and the local community are invited to the wedding & reception.
3-4pm Wedding Ceremony le Pont du Diable, Céret
4:30-6:30pm Reception Le Maudit & Diabolique cocktail hosted by Association ART SUR TECH & Jodi Rose
8pm (Private) Dinner & Evening Lounge, Can Rigall Pyrenees
How do you marry a bridge? Will you kiss him? Will he wear a ring? This is a symbolic union, to celebrate my love of bridges over ten years in a joyful ceremony with friends. It represents my dedication to the creative and spiritual bridges that connect us all & Le Maudit wine to celebrate!
"The Devil's Bridge (1321-1341) is everything I could desire in a husband – sturdy, trustworthy, sensual, kind & handsome. There is longevity in the arch of his back, he has stood for 600 years and he will stand for 600 more. The story of our romance is a modern love fable – I have travelled the world for ten years, making music with the sound of bridges, and as he felt my vibrations coming nearer he drew me to him.
Our wedding is arranged with the help of friends from Barcelona, Association ART SUR TECH, the community and artists in Arles-sur-Tech & Céret, who give their blessing and support to the ceremony. Drink a special celebratory toast with Le Maudit wine, generously provided by Domaine Treloar for the event.
Jodi Rose
jodivrose@gmail.com
welcometobridgeland.com/
Thanks to the Artist in Residence program initiated by Teresa Wennberg and Pierre Lobstein in collaboration with Mr. René Bantoure, Mayor of Arles-sur-Tech and the Association ART SUR TECH.
WHY I CHOSE TO MARRY THE DEVIL'S BRIDGE
"After my ten years nomadic art practice making music with the sound of bridges, I am very excited to have found the "One" with whom I wish to celebrate this artistic marriage. The Devil's Bridge has a pleasing and sensual aspect, he stands high on the river bank looking up into the hills of Céret and the valley of the River Tech. His beginnings are shrouded in legend, where the powerful nature and flooding of the River, technological feats of engineering and supernatural forces all play their part.
The wild nature of the Eastern Pyrenees Orientales appeals to me as a haven and borderland, the mountains created a frontier and an escape route for thousands of people fleeing dangerous histories. Céret is renowned as a home for artists, painters and poets and the Association ART SUR TECH in Arles-sur-Tech offers a perfect opportunity to explore this region and mythology. My work has evolved from a focus on the sound of bridges to explore the cultural context and legends surrounding them with a personal resonance in this romantic celebration.
The mystery of his missing keystone continues – perhaps he too is yearning to be united with his destiny and made complete. This is why I am marrying the bridge. He is fixed, stable, grounded, while I am nomadic, transient, ever on the road. He gives me a safe haven, brings me back to ground myself, and then lets me go again to follow my own path, without trying to keep me tied down or in thrall to his needs or desires. I am devoted to him and he adores me. The ideal husband… strong and silent!"