Let's Get Physical!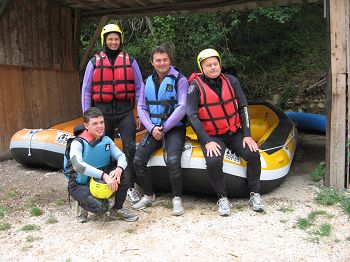 Hands up if the nearest you have got recently to partaking in sporty sunshine activity is raising that glass of Roussillon red or refreshing San Miguel to your lips. OK. Put your hands down! Did you know that there are around 100 calories in that small glass of wine and even more in that cold beer? So let's get physical!
There are so many possibilities in this land of sun, sea and sexy mountains. And you don't have to be super fit for all of them.
We have put together a few fun activity suggestions, supervised by competent and friendly professionals, which are guaranteed to bring a smile to your face and a tingle to your body.
And what could be more exciting on a summer's day than hurtling down a rushing river on a raft? How about starting off with 'hot-dogging', two people in an inflatable canoe, or why not try 'hydrospeed', swimming turbulent waters clinging to a rather special float? Are you tempted?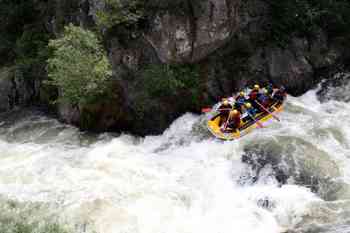 Maybe you would prefer to try 'canyoning', jumping into natural pools, abseiling down spectacular waterfalls, shimmying and sliding over rocks in a watery cascade, surrounded by mind blowing scenery?
Or perhaps you would prefer something slightly gentler, like 'tubbing' down the river on a specially designed inflatable tyre. Great fun.
With two fabulous locations in Axat and Marquixanes, Extérieur Nature is well set up to guarantee unforgettable adventure. For white water frolics such as rafting, tubbing, hotdogging….. all roads leading to their Axat location are a delight to drive. Whether the D117 from Estagel towards Quillan or from Prades to Mosset and over the Col de Jau to Axat, the countryside through which you pass is dramatic and grand. Arriving at the roundabout of the bears, at the junction of the D117 and D118, continue towards Quillan. Almost immediately on your left is a restaurant. Take the next left. You will be kitted out in wet suits, life jackets and helmets, driven to a launch pad……. and you're off , swirling through Axat, round the bear's roundabout, through Martin de Lys in an exhilerating, whirling watery ride down the Aude.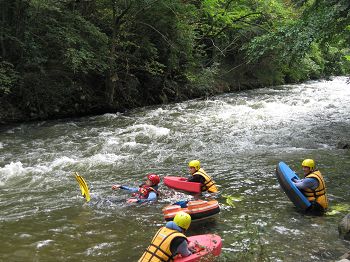 All the guides have state diplomas, they speak English, they are experienced, professional, and fun. Their enthusiasm is infectious.
Set in a wooded adventure playground by the river, Extérieur Nature in Marquixanes just off the N116 between Ille sur Tet and Prades will introduce you to parts of the P-O lesser mortals never see. Jumps, short natural slides, abseiling, leaping and sliding through waterfalls…..
Or try the increasingly difficult runs high up in the trees, a series of nets, ropes, zip wires and other obstacles, which will all challenge your skill and courage.
Non participants can sit in the on-site café and watch their loved ones swinging through the branches or bobbing down the stream.
And after a hard day messing about on the river, the restaurant El Tip Tap awaits you with delicious and reasonably priced Catalan dishes and live music most weekend evenings throughout the summer.
Dominic White and his English speaking team of outdoor sports experts at Pyrenees Outdoor are another team of experienced, highly qualified adventure leaders who will take you canyoning in the gorges de Galamus, rafting on the Aude, mountain biking in the Fenouillèdes, uphill hiking to the summit of Canigou…. Just give them a ring on 06 19 36 16 47.
And did you know that you don't need to go up into the mountains to canyon, abseil, slip, slide and shimmy down waterfalls, wade through underground rivers….? The canyoning park at Argelès Adventure is a unique water park just outside Argelès, based around a man-made canyon. The rock may be artificial but the excitement certainly is not!
A variety of ropes, nets, and zip lines hang precariously over rock pools. The circuits are all supervised by qualified instructors, who are able to give you safety instruction in English, and help you to adapt the course to your level. There is also a high-wire forest adventure park with tree top tomfoolery to make Tarzan beat his chest in delight.
And don't forget Aqualand in Saint Cyprien, a very pleasant alternative to the beach if you're tired of sand in every orifice – a great day out for both little and big people.
Or why not spend a memorable day in the high mountain pastures, on an organised walk by the farmer/ producers of La Rosée des Pyrenées, to meet the cattle in their summer grazing grounds and to talk to the men and women who raise them? The farmers themselves lead a series of day long 'balades' from June to September. The walk includes an excellent 'grillade', local fruit juice and good Roussillon wine. Ring 04 68 05 25 80 or 06 24 41 01 18 to book
For a completely different summer sport in the mountains, have you considered downhill mountain biking in Les Angles? Hire a specially adapted bike, take it up to the top of the ski slopes in the telecabine, and hurtle back down! The descent by either the long and gentle green run or the slightly steeper blue run is exhilarating to say the least and the top of the telecabine is the perfect place for a picnic tho best not to eat too much if you don't want to lose your lunch on the way down!
If you long for the thrill of a Harley, but don't quite trust yourself on two wheels,why not hire a quad bike, a kind of motorcycle with four large wheels? Those with driving licences can head for the hills and those without a licence to thrill can head for AccroQuads near Ille Sur Têt, where their circuits are on 3 hectares of private land, so you can really open up that throttle without getting dizzy.
And don't forget that you can 'get physical' all year round– it's not just a summer thing. Rafting, hydrospeed, tubbing, canyoning, acrobranch, quadbiking, mountain biking, horseriding, water sports, climbing are just a few of the many activities available to you here in the Pyrenées- Orientales. Many of them are open all year round. Watch this space for more suggestions on how to get physical in the Pyrénées-Orientales.