Saints and Winners
St Thomas les Bains wins the P-O Life Peaceful Prize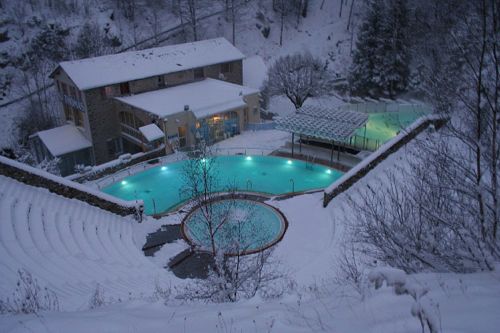 Tucked away in a mythical and tranquil valley at the very heart
of the Pyrenees, these natural hot springs will refresh body and mind and soothe the soul
Head up the N116, direction Andorra, turn left on the CD28 just after Fontpedrouse, and you arrive at St Thomas les Bains, oasis of peace and tranquility, where natural hot springs, (the warmest in the Pyrenees), make this the ultimate spa of natural health and beauty.
Or if you don't fancy the drive, take the little yellow train to the SNCF station at Fondpédrouse, just 3km from the spa, and pick up the shuttle bus (reservation 48h in advance)
Picture yourself slowly unwinding within a vast stone amphitheatre of steam and sauna, Jacuzzi with tonifying horizontal and vertical jets, three outdoor pools with massaging jets, cooled to a steady 37°C, (great fun in the snow and rain), paddling pool for toddlers……
Of course, total relaxation is not your only goal. It has been scientifically proven that the sulphurous waters detoxify, maintain soft, smooth skin, and ease rheumatism, so along with a series of reasonably priced beauty and massage treatments, there really is no better après ski relaxation or winter warmer. Even when the snows melts, and you need a rest from the beach and sand in every orifice, cooler air and stunning mountain scenery make a trip to St Thomas les Bains an absolute pleasure. And from only 6,50€ for the outdoor thermal baths, this luxurious treat will not break the bank!
There's even a tea room (scones and toasted teacakes not included)
☛ Pools
☛ Steam, Jacuzzis
☛ Health & Beauty treatment
☛ Massage & lifting treatments
☛ Authentica Beauté boutique
Open daily from 10h to 19h40, and 20h40 in July and August
Les Bains de Saint-Thomas
66360 FONTPÉDROUSE
tel : 04 68 97 03 13
www.bains-saint-thomas.fr