Tuesday 5th February 2013 at 19h10
Marilyn Monroe at the Institut Jean Vigo in Perpignan.
Founded by Marcel Oms, the cine-club Cinematheque Euro-regional Institut Jean Vigo of Perpignan is 50 years old.
To mark the past fifty years of dreams, passion and discovery with the release of classics, documentaries, film archives, comedies and dramas, the Institut Jean Vigo continues its hommage to Marilyn Monroe….
Bus Stop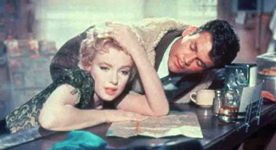 Marilyn is Cherie, a second-rate nightclub chanteuse who captures the heart of Montana rodeo champ Bo (Don Murray). He, in turn, kidnaps Cherie and bundles her off to the roadside bus stop of the title. Gradually, the headstrong Bo learns that you can't rope a gal the same way you lasso a steer, but before this happens his face is rearranged by gallant bus driver Carl (Robert Bray). By this time, however, Cherie has fallen in love with her impulsive but basically good-hearted abductor. Others in the cast include Arthur O'Connell as Bo's level-headed travelling companion and "protector" Virgil, Betty Field as down-to-earth bus stop proprietress Grace, and Eileen Heckart as Cherie's confidante Vera. The film later inspired a 1961 TV series.