The 'Mémorial du Camp de Rivesaltes'
Around 10 million people died in Europe during the First World War. Another 20 million were seriously wounded. France alone lost 1.4 million soldiers and 300,000 civilians, with 4,266,000 military wounded. For the famous French 'Poilus', who fought in the trenches, it was to be the 'war to end wars'. But of course it wasn't!
| | |
| --- | --- |
| Le Dormeur du Val |  The Sleeper in the Valley |
| By Arthur Rimbaud | |
| | |
| C'est un trou de verdure où chante une rivière | It is a green hollow where a stream gurgles, |
| Accrochant follement aux herbes des haillons | Crazily snagging its silver tatters on the grasses; |
| D'argent; où le soleil de la montagne fière, | Where the sun shines from the proud mountain: |
| Luit; C'est un petit val qui mousse de rayons. | It is a little valley bubbling over with light. |
| | |
| Un soldat jeune bouche ouverte, tête nue, | A young soldier, open-mouthed, bare-headed, |
| Et la nuque baignant dans le frais cresson bleu, | With the nape of his neck bathed in cool blue cress, |
| Dort; il est étendu dans l'herbe, sous la nue, | Sleeps; he is stretched out on the grass, under the sky, |
| Pale dans son lit vert où la lumière pleut. | Pale on his green bed where the light falls like rain. |
| | |
| Les pieds dans les glaïeuls, il dort. Souriant comme | His feet in the yellow flags, he lies sleeping. Smiling as |
| Sourirait un enfant malade, il fait un somme: | A sick child might smile, he is having a nap: |
| Nature, berce-le chaudement: il a froid. | Cradle him warmly, Nature: he is cold. |
| | |
| Les parfums ne font plus frissonner sa narine; | No scent makes his nostrils quiver; |
| Il dort dans le soleil, la main sur sa poitrine | He sleeps in the sun, his hand on his breast |
| Tranquille. Il a deux trous rouges au coté droit. | At peace. There are two red holes in his right side. |
| | |
The Second World War, less than 20 years later, showed once again that man's inhumanity to man was without limits. The beaches and the camps of the Pyrenées-Orientales played their part. Reminders of that later, great war are being preserved at Rivesaltes, under the shadow of a wind-farm, behind an industrial estate, where desolate ruined huts and latrines bear witness to the sad history of Camp Joffre.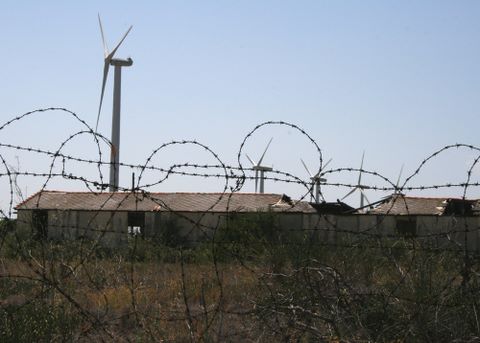 In 1939, at the start of WW2, Camp Joffre became a military transit base. In 1940, it was used to shelter the thousands of Spanish refugees fleeing the Franco dictatorship, a slight improvement on the freezing beaches of Argèlès and Le Barcarès.
In 1942, under German pressure, the camp became a 'Centre national de rassemblement des Israélites' – a 'sorting centre' for Jews. So handy for the railway. Destination: Auschwitz, via Drancy.

Seriously overcrowded, families separated, often starving, stark figures remain: Two thousand five hundred and fifty one Jews are recorded as having been deported from Rivesaltes – four hundred of them were children.
LEST WE FORGET
In June 2015, on the original site of the former camp, a museum will open – 'un musée de la grandeur de l'homme libre, pour un mémorial non de la défaite mais du combat, pour un musée de l'homme digne et debout.'  (A museum to show how great is the free man, a memorial of combat, not of defeat, a museum showing man dignified and standing tall).
The exterior will remain as it is – a crumbling and sombre witness to the past, whilst the interior will have exhibitions, learning annexes, and bare minimalist spaces for reflexion.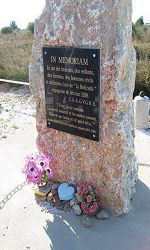 Every year on 1st November, La Toussaint, people throughout France visit cemeteries to remember, and place flowers on the graves of departed family and friends.
Every year, on 11th November, flowers are placed on the tomb of the "soldat inconnu" (Unknown Soldier) and on war memorials around the country, that we never forget both soldiers and civilians, victims of two 20th century wars that rocked the world.
Friedel Bohny-Reiter worked for the Swiss Red Cross Aid to Children in the Rivesaltes Camp from 1941 to 1942. Touched by the misery of the interned 'undesirables', she handed out extra food, organized activities for the children and provided medical services.
When the deportations began in August 1942, she smuggled Jewish children out of the camp to children's homes, one of which was in Chambon-sur-Lignon in the Auvergne, whose inhabitants protected some 3000–5000 Jews from the Nazis between 1941 and 1944. The home was run by Auguste Bohny, later to become her husband.
Thanks to this brave young woman, many children were saved from certain death in the extermination camps in the East. For her efforts, she was decorated «Righteous among the Nations » in 1990.
Friedel Bohny-Reiter kept a diary which was published fifty years after its creation, noting down daily her experience of the camp: hunger, fear, despair. Despite the hardship, she wrote: "These children's eyes are the reason I stay here."