Saturday 14th June 2014 – Perpignan
Perpignan 'Vis Ta Mine'

presented by Courtney O'Brien-Brown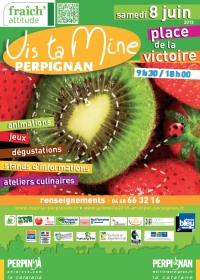 The Pyrénées-Orientales is an agricultural region bestowed with fertile plains, mild winters and yearlong sunshine. People often speak of the Catalan attachment to this 'terroir'.
The Catalan culture has close ties to the land and a long tradition of farming in the foothills of the Pyrénées. These traditions have survived wars and natural disasters, but agriculture in the P.O. now faces new challenges.
Younger generations are turning away from the land as a way of life and a source of income. Nutritional habits are heavily influenced by fast-food cultures and supermarket distribution. It is these challenges that Jean-Marc Pujol, Mayor of Perpignan, hopes to tackle through the Perpignan 'Vis Ta Mine.'
As part of the 'Nationale Fraîch' attitude' week, the 'Vis Ta Mine' celebrations are designed to bring the public into direct contact with local growers. When consumers buy locally through 'close-proximity markets' the price-hike involved in middle-man distribution is avoided. Short circuits of food distribution also reduce energy consumption and carbon emissions. Mr Pujol was eager to highlight that the average Perpignan resident could find the majority of their fruit and vegetable needs within the immediate proximity of the city centre.
The French are generally considered to have one of the healthiest food cultures in the world, but French society, particularly the younger generations, are struggling with the same health problems facing much of the western world. Obesity and diabetes are on the increase, as is heart disease. Through fun events and entertainment for children, information sessions and culinary workshops the event will educate the public on the benefits of including fruits and vegetables in their diet.
The event also aims to promote bio-organic farming and the lifestyle benefits of working on the land. Workshops with successful bio-organic farmers will discuss alternative farming techniques and hopefully provoke community interest in organic produce.
'Vis Ta Mine' will commence on Friday 8th June in Perpignan at 'Place de la Victoire.' Events will include stalls with entertainment, games, food tasting, treasure hunts, information stands, workshops and talks with local dieticians. It will host the Grand Marché of the association 'Jardin de Perpignan' with raffles and hampers every hour, and there will be an entertainment programme especially organised for the kids of Perpignan schools and the surrounding areas. The main emphasis is 'eat healthy & buy local!'
PROGRAMME
Action de dépistage du diabète
Association catalane des Diabétiques en partenariat avec le service endocrinologie du centre hospitalier de Perpignan
Information et prévention.
À la découverte des légumes anciens
Lycée privé Maso
Présentation de légumes anciens, conseils nutritionnels et recettes.
Venez aussi tester votre odorat !
Atelier de cuisine
François Galabert
Recettes de cuisine des Mini-Toques, élaborées par les enfants.
Atelier de maquillage
Les Caméléones
Jeu-conte sur les princes et princesses des saisons et maquillage.
Action de prévention du cancer
La ligue contre le cancer
Stand d'information et de sensibilisation.
Action de prévention du cancer du sein et du colon
Association Dépistages 66
Stand d'information et de sensibilisation.
Ateliers des sens sur le toucher et le goût
Comité des diététiciens nutritionnistes des Pyrénées-Orientales
Sensibilisation sur la diversité des fruits et légumes.
Cuisine Fraîch' attitude
Association Les fruits et légumes frais
Réalisation de recettes de saison à base de fruits et de légumes.
De la nature à l'assiette
Edulia
Maquette sur une exploitation agricole et atelier de cuisine participatif avec des plantes, fruits et légumes.
Dosage de la vitamine C
Les Petits débrouillards
Atelier sur l'intérêt nutritionnel des vitamines dans les fruits et légumes
Grand marché et création d'un petit potager
Association Jardin de Perpignan
Produits frais de saison, cultivés dans le département, du producteur au consommateur.
Le jardin des possibles
Grégory Fusier
Réalisation d'un potager citadin.
Les fruits et légumes, nos amis pour la vie
Sud Formation de la Chambre de commerce et d'industrie de Perpignan et des Pyrénées-Orientales
Ateliers sur les apports alimentaires des fruits et légumes, en présence d'une diététicienne.
Panique au jardin
Association Verte comme une orange
Jeu grandeur nature pour apprendre le jardinage bio.
Parlons santé et nutrition
Mutualité française Languedoc-Roussillon
Documentation sur la nutrition présence d'une diététicienne, pour conseils.
"Bienvenue au jardin"
Catherine Vinas
Spectacle interactif sur les fruits et légumes au fil des saisons.
Transformation des fruits et sucres cachés
Comité départemental d'éducation pour la santé des Pyrénées-Orientales
Atelier sur les sucres cachés dans les produits alimentaires à base de fruits pour favoriser la consommation de fruits frais.
"La Santé par l'alimentation"
Direction de l'Action éducative et de l'Enfance
Exposition de photos et créations artistiques réalisées dans le cadre du Projet éducatif local.
More info
04 68 66 33 43 / 04 68 66 32 16