Christmas excess weighing you down? Is your New Year's Resolution to be a fitter you? Where to start? And is there a Magic Form-ula?
Compiled By Erin Fowler
I recently visited the gym, Magic Form, located in the Rue du Costabonne, near Intermarche, Ceret.
Opened in 2015, the gym is bright, clean and modern and offers an extensive fitness programme to all, regardless of age and fitness levels.
Whether you prefer to exercise in a group or alone, Magic Form caters for everyone!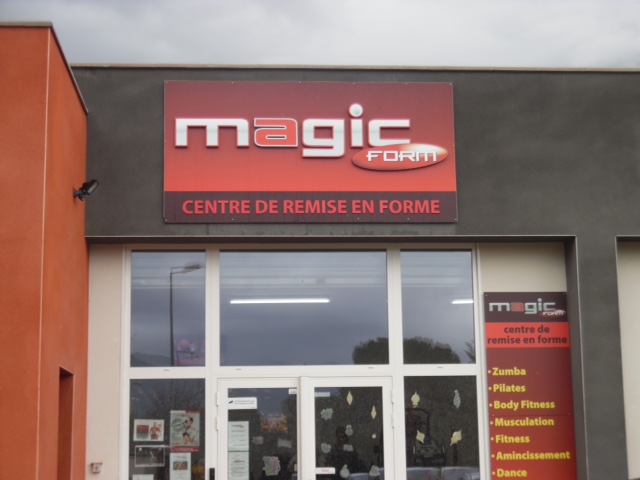 The gym itself is divided into three rooms:
Espace Musculation (free weights)
MACHINES
Espace Fitness (for all the classes such as Zumba, Pilates, etc…)
There are six highly qualified instructors who can provide you with a personal training programme as well as drawing up dietary plans.
The gym is well equipped with the latest machinery, which may seem intimidating at first but under the supervision of the helpful staff you'll get the hang of it in no time! With an emphasis on hygiene, there are also plenty of sanitising gels and paper towels to wipe down the machines between uses.
For those less motivated to work "tout seul", then one of many classes may be more appealing. There is an extensive, daily timetable offering "des cours collectifs" morning, noon and evening, ranging from Pilates, stretching, and yoga, to the more up tempo, body pump, step and Zumba.
There is no need to get bored as the timetable changes every 3 months, (just when you thought you'd mastered the step class!!)
The gym is open from 5 am until 11 pm continually and is manned from 9 am to 9 pm, 7 days a week.
There is a secure entry system for the early birds or night owls which can only be accessed by gym members. Your membership also allows you to use the other Magic Form gyms and with 85 across France, you have no excuse to break your exercise routine, even when holidaying elsewhere!
There are separate changing rooms for men and women, complete with 2 showers in each and lockers which you will need a small padlock for.
The cost to join is a one off fee of 150 euros and then will be 29, 99 euros per month.
I also took the opportunity of speaking to a couple of gym members who informed me that they found Magic Form to be a fun, friendly, non-judgmental gym, well equipped and clean. The trainers are happy to help, encourage and aim to keep you motivated.
So, in seeking a magic formula for a new and fitter you, Magic Form seems like a good place to start! Good luck! Bonne année, bonne santé et bon sport!
Some Gym Vocabulary To Help You Out!
le conditionnement physique

fitness
s'entraîner
to train/workout

le vélo d'entraînement
exercise bike

les poids

free weights

l'appareil de gym

gym machine


le banc

bench

la barre
bar
le gymnase
gym


la machine à ramer

rowing machine

la tapis roulant

treadmill


la machine de randonnée

cross trainer

l'escalier d'entraînement

stepping machine

le sauna sauna
l'étirement
stretch
la fente en avant
lunge
la traction
push-up
la flexion de jambes
squat
le redressement assis
sit-up
l'exercise pour les biceps
curls
la traction pour les jambes
leg press

l'exercise pour la poitrine
chest press

l'entraînement poids et haltères
weight training
le jogging jogging
l'aérobic
aerobics
jogger sur place to jog in-place

s'échauffer
to warm up

étendre
to extend

les exercise Pilates Pilates
l'entraînement en circuitcircuit training

fléxir to flex

tirer to pull up

la saut à la corde
jumping/skipping rope