Monday 9th January 2012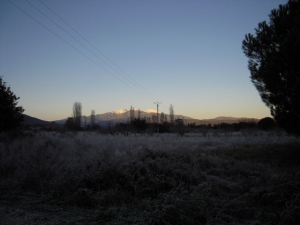 This is today, right here, right now, just taken from the end of the garden. Yes,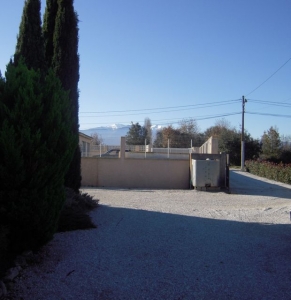 yes, it really is. Isn't it amazing? We are so blessed, waking up to sunshine and blue skies in January. Early mornings and evenings are decidedly chilly, but with such promise for the daytime to come. Makes you want to grin at the sun and do a little jig. Click on the photos to see January in Maureillas in all its spendour.
I came back from Paris to over a thousand emails, over half of which were spam. Before I press the delete button, I just had to share one as it is so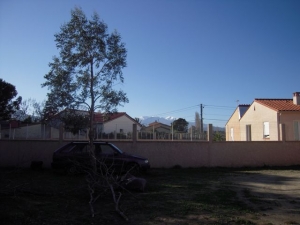 delightfully expressed! "Don't let them make fun of you anymore! Use XXXX to increase your trouser mouse in length and girth! Try it now and make them voice a more fitting definition of your new big sausage!" For Heaven's sake!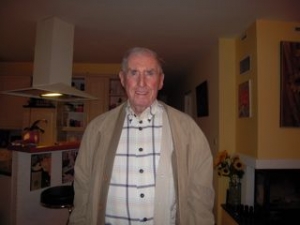 Took my Dad back to Leeds last week via Barcelona, now that our options are so reduced. A kind friend drove us to the airport, and all went well until we arrived above Leeds, where the winds were so strong that we were unable to land. After several frightening attempts, we were put down at Manchester and bussed back to Leeds, so the whole journey took about 14 hours. Lucky he is such a soldier, dear old Dad, as he didn't complain once. I flew back yesterday on my own, after enjoying a happy thirty minutes amongst the lotions and potions of Leeds and Bradford duty free shop, trying on the rejuvenating creams (Helena Rubenstein – 169 euros for a small pot – ouch!) and blathering my face in eye serum and unwrinkle, decrinkle pastes and ointments. I don't actually buy them of course, just pretend. At those prices, you expect a miracle when you look in the mirror, even from the testers, and it's a bitter disappointment to find the old you staring back. Have to say though that one of the few advantages of the winter weather in Leeds is that the lack of light during the day doesn't show up fine lines and wrinkles, thus allowing me to lie about my age more convincingly! The train from Barcelona station (after taking a taxi from the airport for 20€) was clean, cheap and bright, and I had the added bonus of meeting a couple of rather lovely English ladies as I was sitting on the platform waiting for the train, one of whom lives in Arles-sur-Tech. Small world, tho' I admit I did kind of thrust myself upon them, as I've written so much about muggers and pick pockets in Barcelona that I've frightened myself, so very much enjoyed the 'safety in numbers'.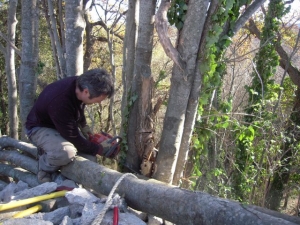 When we bought our house, we were so proud of the woods that were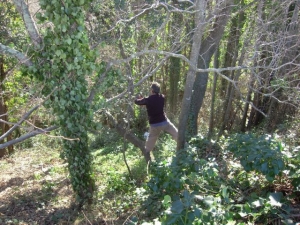 thrown in as part of the deal. Imagine owning your own forest? A dream come true non? Over the years, we have realised that it is actually a 'cadeau empoisonné' as it's too steep to negotiate without ending up going down on your bottom, and of course it needs looking after. So we've finally started to look after it! We're making a proper path down to the river at the bottom, which we haven't seen for years, as the woods are all overgrown with brambles, and are having such great fun doing it. Olivier has already had a few near misses whilst felling trees, and I can actually feel muscles sprouting in my arms that haven't shown their faces for years!
Wednesday 11th January
Another one in a chain of superlative days. I'm running out of adjectives to describe this amazing winter weather, so readers will just have to accept that I'm a repetitive little Madam. Fan-flipping-tastic!
Wednesday 18th January
And still it shines. A silvery frost this morning has already given way to to a hope-bearing sun, pale as yet at 9h30 in the morning, but warm in its intentions. We have a roaring fire crackling in the grate and the atmosphere is holiday.So odd – we would never have dreamt of a real fire to supplement the obligatory central heating throughout many so-much-colder British winters, although we enjoyed the aesthetic warmth of a gas coal fire – pretty, realistic and minimum effort.
It never really dawned on us to have one of those here – not even aware of seeing them in the shops, tho' I'm sure they must exist. Most people we know have real fires around here – maybe because they're cheaper to run? Or just because they are hypnotically mesmerising – a pyromaniacs dream. One thing's for sure, they make a helluva mess if you're not very, very careful, and take regular cleaning, both of hearth and chimney, if they're to work at their maximum potential.
Our next door neighbours had a chimney fire last year. Wow. Impressive. It took two fire engines and a dozen firemen with ladders and pulleys and ropes, scaling the walls and pouring foam down the chimney, which was roaring, the fire looked enormous and dangerous and very frightening.
Apparently, fire damage resulting from a chimney fire is one of the most common insurance claims in France and chimneys really need to be swept at least once per year, depending on how much they are used. Many insurers will NOT pay out for fire damage without a cleaning certificate ("certificat de ramonage") which your chimney sweep (ramoneur) will leave you when he cleans your chimney, so bear this in mind if you are thinking of cleaning it yourself. Of course, the most important reason for keeping your chimney clean is the risk of fire and the danger of breathing in carbon monoxide which stays in the house instead of being released through the chimney.
Despite the beau temps, have a cold creeping up on me and am feeling grumpy, frumpy and unsociable. Olivier is also feeling grumpy and unsociable in anticipation of catching it. Duh! Men!
Saturday 21st January
Wow! We have all our doors and windows open, as the fire which we lit last night has warmed the house up too much, considering that the sun is streaming in through every orifice, bringing us to 25° inside, and clocking up 21° on the outside themometer, placed in the sun instead of the shade, just out of curiosity. It's the world upside down – there are flies dive-bombing my lunch, and the biird's are singing! Maybe there is something in this 'End of the World in December 2012' after all, cos this is nothing like winters that I know. I think I will pack my bags and bugaroff to Bugarach in the Aude.
Sunday 29th January
It's the first sunless day in many a week, windy and chilly, but dry so far, and I'm already regretting all the windless and mild days of winter that have passed me by on the bike ride front. I have been full of my usual good intentions, the weather was MADE for cycling….but somehow I just haven't been able to get my cycling head on and get moving. Now that winter seems to have arrived, I feel vaguely cross with myself for not making the best of it to shed a few pounds!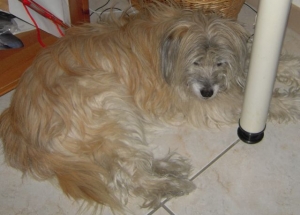 It's snowing up in Les Angles according to our 'on the front lines' reporter Mountain Mama, and the roads are dicey. We are thinking of going up for a ski next week but the needs of our hairy daughter are many, between medicines, and several daily injections, and refusing to go out for a pee without BOTH of us present and correct. She is now more or less deaf as well as blind, and rather senile. She doesnt like being brushed anymore, probably due to the fact that she has so many injections her poor coat must be smarting, and has turned into a bit of a scruffbag – but she always has a wag and a lickwhen she finds me, and tells me she loves me in so many other ways. Here she is – my stinky little pin-up girl.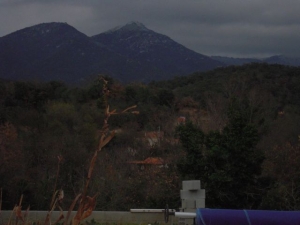 There's a scattering of snow on Neolous, and a total change in scenery colour compared to the past few weeks. Time for hot veggie soup and steaming mugs of tea. It's all still very beautiful though.