Friday Ist November 2019
THE BEARD'S GONE BUT THE SAUSAGES ARE JUST AS GOOD!
If you were fans of Tim the sausage man, you'll be delighted to hear that the British Banger is back! Corinne Carroll will be visiting on November 1st with her delicious range of handmade British style sausages and dry cured bacon

ABOUT CORINNE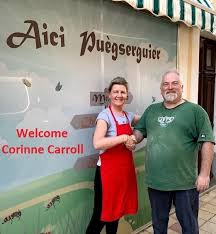 Corinne has recently moved back to France to pursue her passion for all things culinary and is proud to provide you with the best, hand-made British style sausages and dry cured bacon.
Her successful career in catering and hospitality spans 25 years and previously took her from Highlands of Scotland to Ireland via the French Alps.
Her recent arrival in Puisserguier marks the start of her new Mediterranean adventure, as she continues the sausage legacy established by Tim Rose (formerly known as Mister Saucisse) .
She aims to bring you the highest quality produce, using only the finest cuts of French pork to create a delicious tasting Banger, that many crave as a taste of home!

SAUSAGE PRICE LIST –
ALL 5 €
Sausages – 5€
All handmade sausages are in packs of 6.
Breakfast
These smooth textured sausages are mixed with a tasty blend of seasonings, including sage and thyme. Perfect for the great "British Breakfast"
Traditional
These "Old Fashioned" sausages have lovely English herbs and ground spices mixed through, including ground mace and nutmeg, which creates their distinctive taste.
Cumberland
An " All time classic" sausage, the combination of the special blend of traditional herbs and spices creates its own unique flavour. Yum !
Bacon & Sausage Meat – 5€
Dry Cured Bacon
6 rashers of hand rubbed and long cured bacon for a real old fashioned taste. This lean bacon is just great in a buttie!
Sausage Meat
Packs of 450g, perfect for stuffing, meat balls, sausage rolls, scotch eggs, patties………………. Oh the list is endless!
November Sausage Special
SMOKED GARLIC AND WILD MUSHROOM
A classical combination of sea salt, English sage and the finest cracked black pepper with a pinch of nutmeg. A simple traditional taste.
HOW TO ORDER
Orders can be made in one of the following ways:
Email corinnecarroll2@hotmail.com
Call or text +33 (0)7 68 41 26 89
Send a private message on Facebook
Please ensure you include your contact number, date and location of delivery when placing your order.
PICK UP POINTS AND DATES
P-O
Friday 1st November
Perpignan
Please place your orders by 27th October
11am – 11.30am
Gifi Carpark, Mas Guerido
---
OTHER PICK UP POINTS OUT OF THE P-O
See poster above.
---
PRE ORDERS OF SAUSAGES ONLY!
Please  tell your friends and family. If we don't order this excellent sausages and bacon, Corinne can't guarantee another visit!