YAY!

FRIDAY 5TH

MARCH IS CURRY NIGHT AGAIN! – AND ONCE AGAIN COUCH POTATOES WILL BE DELIGHTED TO HEAR THAT YOU DON'T EVEN NEED TO MOVE TOO FAR FROM YOUR OWN FRONT ROOM!

HERMAN IS BACK  WITH HIS CURRY VAN AND IS HAPPY TO DELIVER TO YOUR HOME!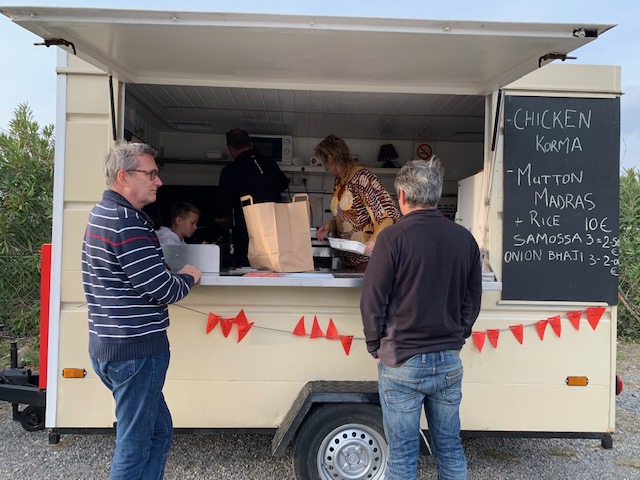 ---
MENU
Starters
– Spinach and Feta cheese samosa's 3 for 3.50€
– Chicken curry samosa's 3 for 3.50€
Mains 10€
– Spinach, sweet potato & lentil dhal with rice
– Durban Lamb curry and rice (Back by popular demand)
Hope to hear from many of you. Stay safe!
Herman
Happy to travel further if people can get a group order togetheR.
You can pre-order your dishes via Whatsapp or email on hermanhusselmann@icloud.com).
I will also be offering private catering services (including lamb on spit, paëlla, Indian cuisine and more).
Tel: 06 75 15 88 99
---
For more info
---
ABOUT HERMAN
Some of you might know me through Club 66 and the curries offered in St Génis and Laroque, but for those of you who don't, here's a bit of background info:
Both native South African, my wife and I moved to London in 1999 where we settled ourselves for 12 years.  But finally it was the sunshine that tempted us to the south of France, so in 2012 we took the plunge and moved to Le Boulou.
During all this time my passion has always remained in the food industry. In SA I worked as a government chef and offered private catering services. In London I organised various dinner dates and here in France I  am currently the breakfast chef for the USAP rugby team but have, on several occasions, cooked curry for many of my clients.
Their constant demand for more curry is the reason why I decided to buy a food truck and offer them a local curry service.