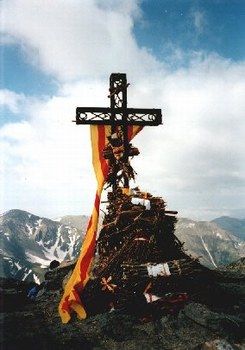 No event in the Catalan calendar is more important than Els Focs de la Sant Jean or The Fires of St John, our mid-summer rites held on the region's sacred mountain, Canigou (2,784 metres), and in towns and villages right across Catalonia.
Essentially the Fires celebrate the ancestral bonds of love and friendship between all Catalans everywhere – and by extension between all human beings.
Indeed, many foreign nationals take part in the celebrations.
The first midsummer fire on Canigou in modern times was lit on 23 June 1955 by one Francois Poujade and a few fellow USAP rugby fanatics – to celebrate his birthday and also the Perpignan team's victory over FC Lourdes in the Yves du Manoir Challenge cup.
Then between 1957 and 1963 Les Cercles des Jeunes enlarged the event. A local group belonging to an international network of young people devoted to good causes, Les Cercles extended the midnight fires to 20 further hill tops and watch towers. French Catalonia was truly ablaze and in later years the celebrations spread across the border to the rest of Catalonia.
La Trobada
Preparations for big events are often as much fun as the events themselves.
So it seems with La Trobada (The Gathering or Reunion) when representatives from communes across Catalonia and other enthusiasts assemble for two days about a week before the solstice bonfire to make all the necessary preparations.
The meeting place is Les Cortalets (altitude 2,150 metres), an extensive plateau below Canigou.
People make their way there either on foot along the track known as La Piste du Llech (a five hour walk), or by horse, mountain bike or 4x4s. Donkeys are allowed only for carrying supplies.
Each person brings a bundle of faggots of vine cuttings – symbols, like the fire itself, of "love and peace" to be deposited the following morning round the iron cross at the summit of Canigou.
Four recipes
Once everyone has pitched their tents, they get down to the serious business of preparing the following and other tasty dishes.
The grillades are varying mixes of pork chops, lamb chops, belly pork slices, sausages and black puddings braised on huge metal trivets over glowing faggot embers.
The olladas are huge stews of pork shin, tails, sagi (salted, slightly rancid pork back fat), black puddings, sausages, cabbage, potatoes, leeks, carrots, celery, dried haricot beans, thyme, bayleaves … simmered for at least two hours, traditionally in an old fashioned tupí or glazed earthenware pot.
Another delight is el cremat or cinnamon-and-rhum flavoured "burnt" coffee. Try the recipe given in the references below – but preferably out of doors with several buckets of water nearby!
Xocolotada (or Xicolotada) is a posh version of cocoa, simply made but needing care.
It goes well with a sweetened version of fougasse, a flat, sculpted bread handed round on many communal occasions. Break up 200 grams of dark chocolate into pieces and melt them very slowly in a soupspoon of water, in a bain-marie if possible.
Then add gradually a litre of full cream boiling milk, whisking all the while. Finally add 30 grams of granulated sugar and continue whisking until you have a perfectly smooth drink.
If you are still standing after all this, you pass round the purro filled with sweet muscat for communal drinking. A purro is a sort of glass decanter with a long slim spout from which you literally pour the stuff down your throat.
Music is provided throughout the evening by groups with guitars, and there are some traditional tunes played on strident, small double-reed instruments .
After not much sleep following these euphoric celebrations, the hardier participants make the four-hour climb to the top of Canigou, with their bundles of faggots and copious quantities of ribbons and bands in the famed Catalan colours of sang et or, or blood-red and gold.
The faggots, bearing the name of each commune, are piled and tied to form a huge bonfire round the ancient metal cross on the top of the mountain.
A week later, at midnight on 22 June, the fire is lit by a group of watchmen from the Cercle des Jeunes with a flame permanently kept alive in the Casa Pairal; or, more precisely, in the hearth of the Casa Pairal's reconstructed kitchen of a mountain farmhouse named Mas Gleix, dating from 1631.
The Casa Pairal is a superb Catalan folk museum housed in Perpignan's most imposing town-centre landmark, the 14th century brick-built former fortress-cum-prison, Le Castillet.
Learn more about the festivities on 23rd June in our article on the Les Feux de la Saint Jean.