PAD Festival 2017, Perpignan
---
15th June 2017

-

21st June 2017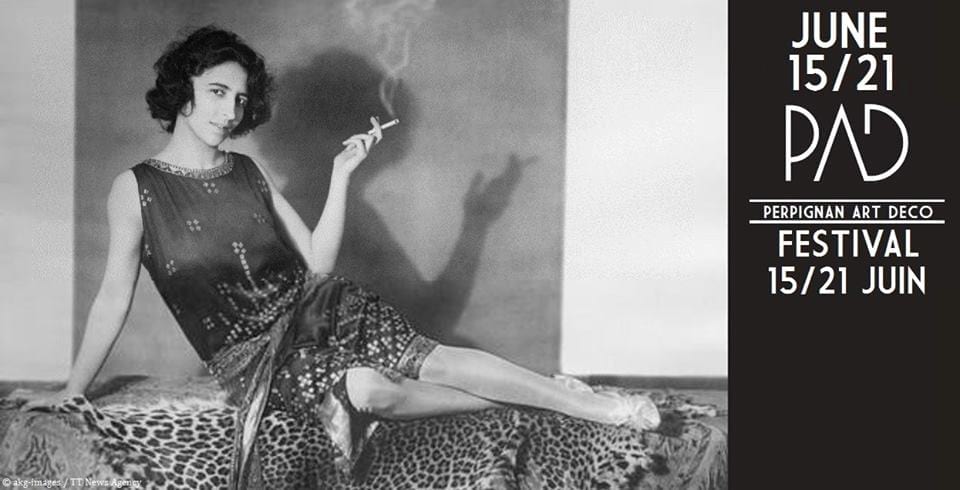 PAD Festival
Perpignan Art Deco Festival will take place from Thursday 15

th to Wednesday 21st June 2017, celebrating the city's rich architectural heritage from the

turn of the last century.
ABOUT PAD
The Perpignan Art Deco (PAD) Association was created in 2014 to promote the region's rich art deco heritage. They have developed a comprehensive inventory of architecture across the P-O, including schools, post offices, residential buildings and even cooperative wine cellars.
Their important and extensive work has seen them welcomed into the International Coalition of Art Deco Societies, consolidating their reputation as pioneers, both on a national and global level.
At the time of its creation, alongside London, Perpignan was the only European city to be counted amongst the great art deco cities of America and Australia.
PAD founder, Philippe Latger, represented our region at the World Congress on Art Deco in Shanghai in 2016.
Collaborating with the Biarritz Années Folles art deco festival, PAD is seeking to re-establish the tourist route that became popular during the art deco period.
Last year's festival saw Canet en Roussillon join the team, and this year, Font Romeu have provided the crucial link between sea and mountain. Only Vernet les Bains remains to be recruited before the department can give the green light to this historic project.
FROM WEST TO EAST
Travelling from the West coast ocean to the East coast sea, discovering the art deco gems across Basque Country and Catalonia in between, well that's something that should never go out of fashion!
(Re)discover the magic that sets our region apart with the third edition of the Perpignan Art Deco Festival. 2017 will offer a delectable programme of music, cinema, literature, photography and fashion, as well as conferences, lectures and seminars on the socio-economic context that gave rise to such an iconic style.
Visitors can take in the Perpignan sights with guided walking or bike tours and the well-known petit train jaune will be adapting its usual route especially for the event.
FONT ROMEU
Font Romeu will be hosting a day of information and entertainment on Sunday 18th June, promoting its own unique art deco history. At 2pm, take Philippe Latger's free guided tour, departing from the Office de Tourisme, and taking in the beautiful Grand Hotel and the surrounding 1930s villas and chalets. Then finish of the day with a concert from the Terrific Turkeys on the terrace of the Casino.
President of the Art Deco Society of Palm Beach, Sharon Koskoff, will be at the beautiful Palais Consulaire in Perpignan on Wednesday 19th June at 5.30pm for a talk (free and in English!) about the preservation of Art Deco heritage.

There will be plenty of musical entertainment at the Centro Espagnol too! Our suggestion would be the Swing Banquet (25€) on Friday 16th.
Call 04 68 66 18 92 for info and reservations.
Follow them on Facebook.