Saffron Stalls in the Pyrenees
---
5th January 2016 at 08h00

-

17h00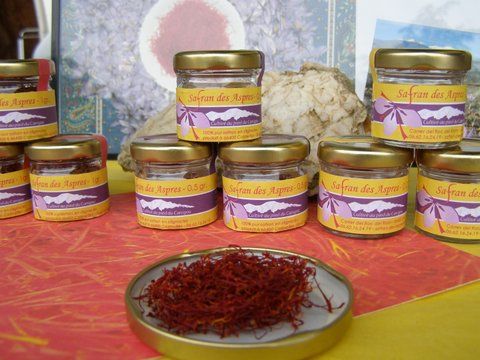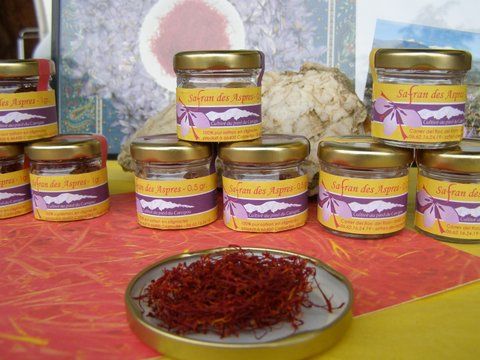 Look out for Laurent, Hilde and the saffron stall on…..

– 29th November – foire au gras de Cabestany
– 6th December – marché de noel de Serralongue
– 12th December – marché de noel nocturne du Soler
– 13th December – marché de noel d Amélie les bains
– 20th December –  foire au gras de Ceret
– 17th January – 2016 foire aux truffes de Thuir
– 31st January 2016 foire aux truffes d Arles sur Tech
By Lynn Hall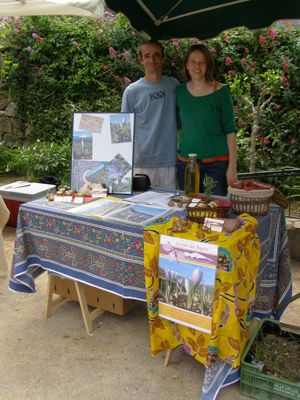 To find the best quality saffron you do not need to travel far.   In the hills above Calmeilles, at the feet of Canigou, Laurent Dieval and his wife Hilde have been growing this intriguing flower since 2011.   Each year Laurent is painstakingly expanding the area farmed, although the actual volume produced is very much at the mercy of the weather.   Currently he has approximately 82,000 bulbs planted – all by hand.
Farming is never easy, but here the foremost natural threats include wild boars, deer, hares and mice.   To try to protect the saffron bulbs it has been necessary to install elaborate fencing.  Sanglier can dig, deer and hares can leap, and mice can go where they please.
With almost 20 years of experience, and qualifications in horticulture, Laurent had a long-held ambition to start his own enterprise.  Working for others in the Aspres since 2001, growing fruit and vegetables, gave him a good understanding of the climate and the conditions. With the support of his Belgian wife Hilde he searched across the PO for suitable land to buy until finding the beautiful fields above Calmeilles, and then to rent a home in the village of Oms.   Saffron grows best between 400 and 800 metres of altitude, on south-facing slopes on well-drained but fertile soil.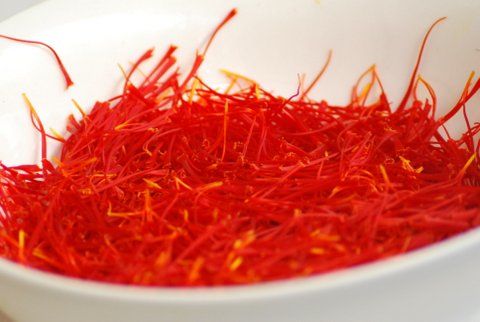 Unlike the well-know spring bulb, the saffron crocus (crocus sativus) blooms in the autumn.   The harvest takes place over 6 weeks during October and November.  The whole process is very labour-intensive and a real labour of love.  Early each morning that day's flowers are picked before they fully open.  The deep golden orange filaments – just 3 per flower – are then pinched out of the petals and put dry the same day.  The day I visited the ground was littered with heaps of discarded flowers.  An experienced worker can deal with around 1000 to 1200 flowers for picking and 500 to 600 flowers for pinching per hour. During the drying process the saffron loses around 80% of its weight.   130 to 250 flowers are needed to produce just 1 gram of dry saffron.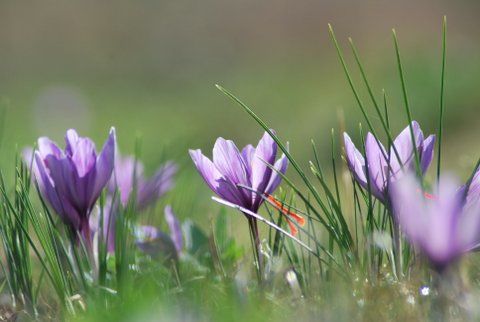 No chemicals are used in the production of Safran des Aspres, as quality is of prime importance for artisan producers such as Laurent. He is currently working towards organic status, and from 2014 will be able to use the 'Bio' label. This season's crop will be ready just in time for the Foire au Gras (Christmas markets).   Stored correctly, in sealed glass jars and away from direct light and humidity, saffron can be kept for up to 3 years.  Laurent's advice is to only buy saffron when it is sold in whole filaments.  Powdered saffron is too vulnerable to being bulked up with additions such as turmeric or paprika.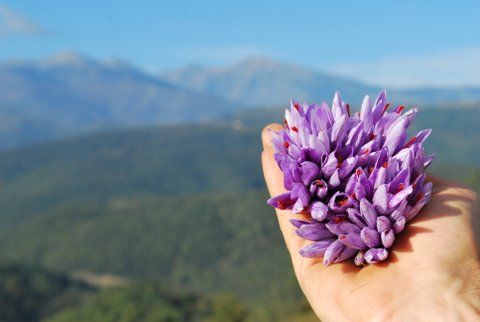 The climate and soil conditions are ideal in the P.O.    Elsewhere the major producers are primarily Iran, then Greece, Morocco, Spain and Kashmir.   Much smaller quantities are produced in Afghanistan, Italy – and even in Austria, England, Germany, Switzerland and a number of other countries.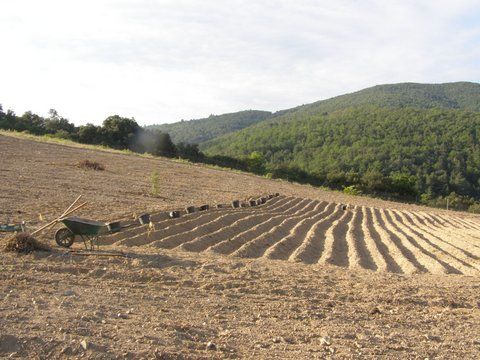 Throughout history, since ancient times and across the whole world, saffron has been highly prized for both its culinary and its medicinal properties.  The ancient Greeks, the Minoans, Assyrians, Chinese, Egyptians, Romans – for over 3,000 years the many virtues of saffron have seen its use spread to virtually every country.   In England it was traditionally grows in East Anglia in previous centuries, with the Essex town of Saffron Walden named for its speciality crop.   In the 17th century Culpepper's Herbal said 'saffron is endowed with great virtues' – but dosage is critical, so always consult a doctor or qualified herbalist when thinking of medicinal use.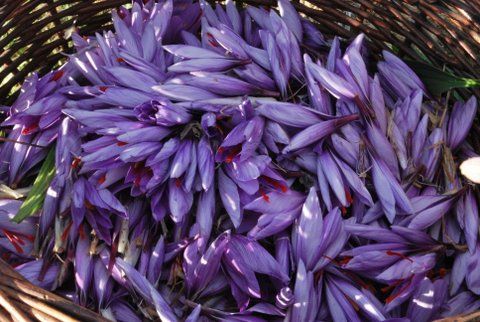 It is possible to visit the saffron farm at any time of the year – even if it is at its most spectacular during the flowering season.   The safranière is situated in a beautiful natural site and makes a great destination for a hike in the hills.
Using Saffron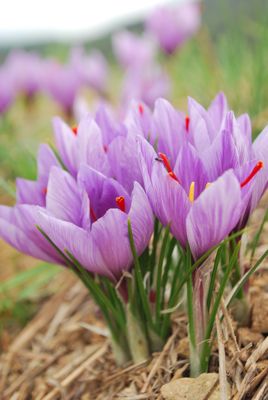 The golden rules:
1).  Saffron is powerful – you only need 3 to 6 filaments per person in sweet recipes, 6 to 9 filaments per person for savoury dishes.
2).  Before using infuse in a small amount of warm liquid (water, milk, fruit juice etc) for at least 2 hours, or even overnight. This allows the subtle flavours, scents and colours to permeate the liquid.   To release the maximum amount of colour, gently crush the filaments.   If using in cream or egg white it is a good idea to infuse overnight in the `fridge.
3).  Add the infusion towards the end of the cooking time as saffron does not benefit from long or very hot cooking.
Recipes
Saffron can lend its sophisticated flavour to food both sweet and savoury.   It is best used as the star of the show in relatively simple recipes.  Think of cakes, omelettes, pancakes, gratin of potatoes or leeks, risottos, crême brulée.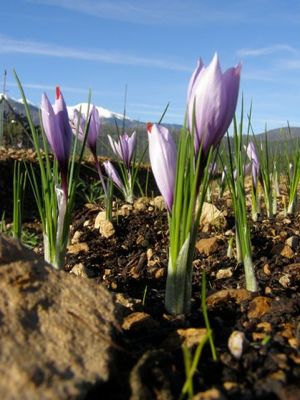 Crêpes Safranée (For about 20 pancakes)
250 g plain flour
½ litre milk
3 eggs
Pinch of salt
25 g castor sugar
50 g butter
25 filaments of saffron (infused for in the milk for at least 2 hours)
Make the batter and leave 20 minutes before cooking the pancakes.
Saffron Cake (for 8 people)
54 filaments of saffron
1 pot of natural yoghurt
(using empty yoghurt pot as measure)
2 pots of caster sugar
2 pots of plain flour
½ pot of light oil or softened butter
3 eggs
½ sachet of yeast
Infuse the saffron in the yoghurt overnight.
Preheat the oven to 180˚ C
Mix all ingredients together until smooth.
Transfer into a buttered and floured cake or loaf tin.
Cook for approximately 30 minutes, depending on your oven.
Kept in a cool, dry place the cake will keep for up to 2 weeks.  The flavour of the saffron will develop with each day that passes.
Pumpkin Risotto (for 4 people)
400g Arborio rice
400g prepared butternut squash (or similar)
1 medium onion
3 soup spoons of olive oil
1 vegetable stock cube
24 saffron filaments
Parmesan
Prepare 1.5 litres of warmed vegetable stock and add saffron.  Leave to infuse for 2 hours or more in a covered pan.
Cut the pumpkin into small dice.  Peel and chop the onion.  Gently fry the onion and pumpkin in the olive oil until the pumpkin is soft.   Add the rice to the pan and mix well.  Then over a low heat, add a ladle of vegetable stock.  Stir constantly until the rice has absorbed the liquid before adding the next ladle of stock.  Continue until the rice is nearly ready.   Add a generous quantity of grated parmesan before the last addition of stock and mix well. Remove from the heat, cover and leave for 5 – 10 minutes before serving on warm plates.   Your risotto should be moist and creamy – and a beautiful golden colour.
Where to buy 
Farmers markets and Christmas markets 
Oms, épicerie, Chez Doutres
Torderes, restaurant 'La Costelle'
Llupia, épicerie, 'Soleils de Terroir
Les Hostalets, restaurant 'L'Epicerie'
Castelnou, restaurant 'le Coin Catalan'
Fourques, wine cave co-operative
Fourques, Domaine Pujol
Perpignan, Mas Guérido, fromagerie Xavier
Pollestres, épicerie 'Croc d'Aqui'
Argeles, epicerie 'Douceurs Catalans'
Ponteilla, Traiteur Segui
Port Vendres, restaurant 'l'Archipel'
Port Vendres, Poissoneires Catalan (le Crée)
Perpignan, Port Vendres and Collioure, Traiteur Astruc
How Much
Prices for 2013:
0.2gr  = 7€ – for around 12 to 20 portions  
0.5gr  = 16€  –  for around 30 – 50 portions
1 gram = 31€  – for around 60 – 100 portions
Other local producers
Safran Della Roma, Sahorre
Safran de Rodes, Ille sur Têt
Domaine Casenobe, Maureillas
Le Safran de Marie, Espira de Confluent
La Vinya d'Alqué, Taillet
Info: Hilde, Laurent's wife, speaks Dutch, English and a little German.
Feel free to contact them in one of these languages
Safran des Aspres
Laurent DIEVAL, Producer
Carrer del Roc del Ram
66400 Oms
Tel. 04 34 29 21 45
Mobile 06 62 16 24 19