Sunday 21st September 2014 – Baillestavy
Fête de l'Ane – Donkey Festival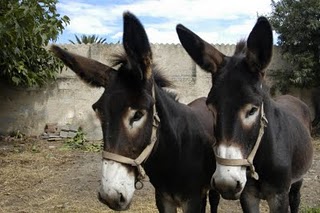 The Catalan donkey has nearly disappeared in the region.
Distinguishable by their height of 1,45m – 1,60m, a dirty black or brown colour, with a white circle around the eyes, white nose and belly, they are known to be stubborn, solid and agile, therefore perfect for the mountains.
Fortunately, they continue to be bred in the heights of Baillestavy where the annual donkey festival presents an occasion for games, dancing, music and of course donkey rides!