Tucked away below the picturesque village of Eus, just outside Prades is a company with a mission – to constantly bring new, exciting activities to the P-O. Kapoupaskap. This play on words, capable ou pas capable, able or not able, is really a french equivalent of "I dare you…") . This year they introduce Devil Mountain and Disc Golf – both unique to the PO.
Devil Mountain – qu'est ce que c'est?
A fun new alternative to VTT (vélo tout terrain) or off road biking. These 'scooters' are specially designed to go off road, down mountain sides, over bumps and jumps. Much easier and comfier to handle than off road bikes but without losing any of the sense of fun or adrenaline. All excursions are accompanied by a fully qualified english speaking instructor.
Et Disc Golf – c'est quoi?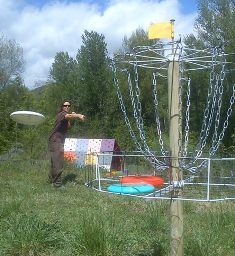 Looking for fun for the whole family, but prefer to give the adrenaline a miss? Then Disc Golf is for you. You play a 9 'hole' round of 'golf' using a frisbee instead of a club and ball, the aim is to 'toss' the frisbee into the specially designed nets. Just like in real golf, every hole has a par. At just 4€ per person in these current economic climes this is a great value day out.
For further details visit their website or call 06 88 48 06 45