Love eating out at the seaside? The Côte Vermeille (Vermilion coast) covers 10 miles, winding its rocky and picturesque way from Argelès-sur-Mer to border village Cerbère – and in between lie Collioure, Port Vendres and Banyuls-sur-Mer. The Côte Radieuse extends from Le Barcares to Argelès-sur-Mer – approximately 15 miles – and includes the popular beach resorts of Le Barcarès, Canet, St Cyprien and Argelès as well as the smaller, lesser known ones of Torreilles and Sainte Marie. Restaurant abound! Here are some of our suggestions.
COLLIOURE

Where the brightly painted houses reflect the colours of the remaining Catalan Barques moored at the quay you will find Collioure… The imposing Château Royal – the Summer Palace of the Kings of Mallorca – stands at the very heart of this former fishing village and dates back to 1280, as does the Palais Royal in Perpignan. Frequented by famous names such as Maurice Chevalier, Edith Piaf, Raoul Dufy, Salador Dali, Picasso and Charles Trenet, it is perhaps Henri Matisse who, with Derrain in 1905, was responsible for immortalising Collioure.
Can Pla
In the faubourg quarter of Collioure, close to the horseshoe bay and the Château Royal, Can Pla is the perfect restaurant to visit after a day's sightseeing. Dine in the warm and friendly atmosphere of the open-plan restaurant or choose to eat in the shade of the terrace – either way, you won't be disappointed!
READ REVIEWS


PORT VENDRES

Where the Pyrenees meet the Mediterranean, its deep harbour bustling with activity, lies the attractive fishing village of Port Vendres. On the N114 only 30 odd kms from Perpignan, with its own railway station and bus service, it is easy to get to.
La Fringale and l'Echappée Belle
La Fringale and L'Echappée Belle overlook the authentic harbour near the obelisk, with the Albères foothills rolling away into the distance. Sample the authentic, quality produce including their famous moules/frites and super, fresh salads – prepared with passion and flare at these sister restaurants.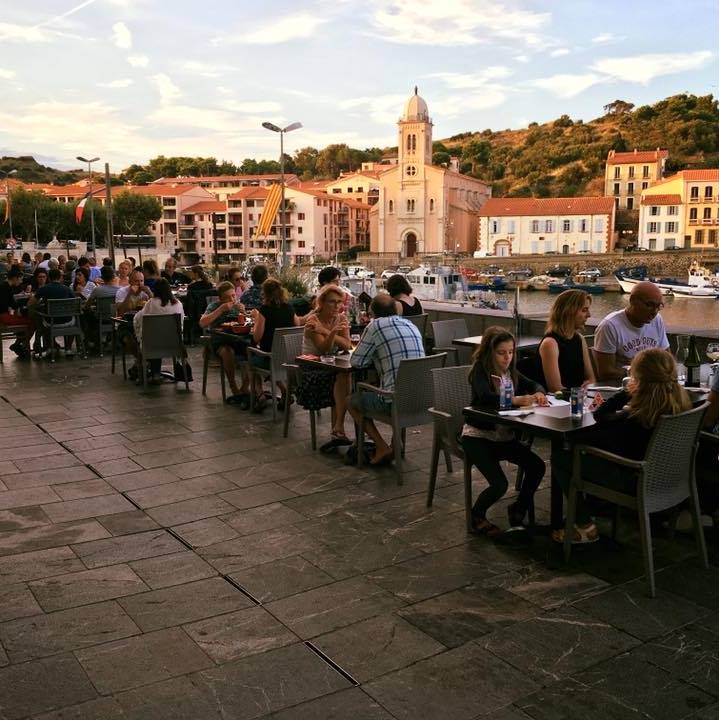 ---
Le Chalut

Nestled in a quiet corner, again overlooking the harbour of Port Vendres, Le Chalut offers diners an authentic Mediterranean seaside experience. In the down to earth, convivial restaurant or out on the shady terrace, the team warmly welcomes you all year round.
---
L'Archipel
Situated on the shady side of the harbour, Restaurant L'Archipel welcomes diners all year round in Port-Vendres for freshly-caught fish and seafood in particular. True to the artistic heritage of the area, the walls of the dining room are hand-painted with local landscapes and the shady quay-front terrace boasts views over the port.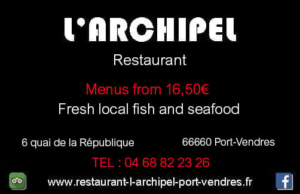 ---
Le 7 Grill
Also situated on the shady side of the harbour, overlooking the authentic waterfront and close to l'Archipel, Le 7 Grill is situated away from the hustle and bustle of the main restaurants. Here you can choose from modern dining Inside or the shady terrace outside. The cuisine is local and seasonal and focuses on their speciality – quality, 100% French meat.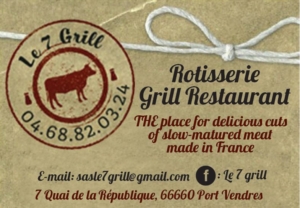 ---
BANYULS-SUR-MER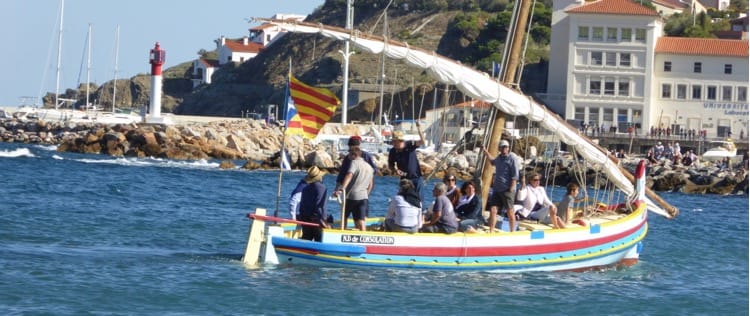 This attractive seaside resort has plenty of bars and restaurants to suit all tastes and pockets, many tucked away in the flower-filled alleys – including the excellent La Vieille Cave. The newly arranged seafront is delightful for a gentle stroll and the sparkling new Aquarium and Jardin Méditerranéen of the Biodiversarium well worth a visit. It is also a brilliant base for rambling and walking and the Reserve Marine Naturelle, 650 hectares of sea between Banyuls and Cerbère, is a sub–marine paradise. The annual Fête de Vendanges, in October, is not to be missed.
Le Fanal
Pascal Borrell, Michelin-starred chef many times over, invites you 'à table' to sample his mouth-watering creations, inspired by the seasons. Menus from just 19€ per person (2 courses). Le Fanal is open every day, all year for lunch and dinner. Make the most of the panoramic views and take breakfast or afternoon tea on the chic terrace overlooking the port of Banyuls-sur-Mer.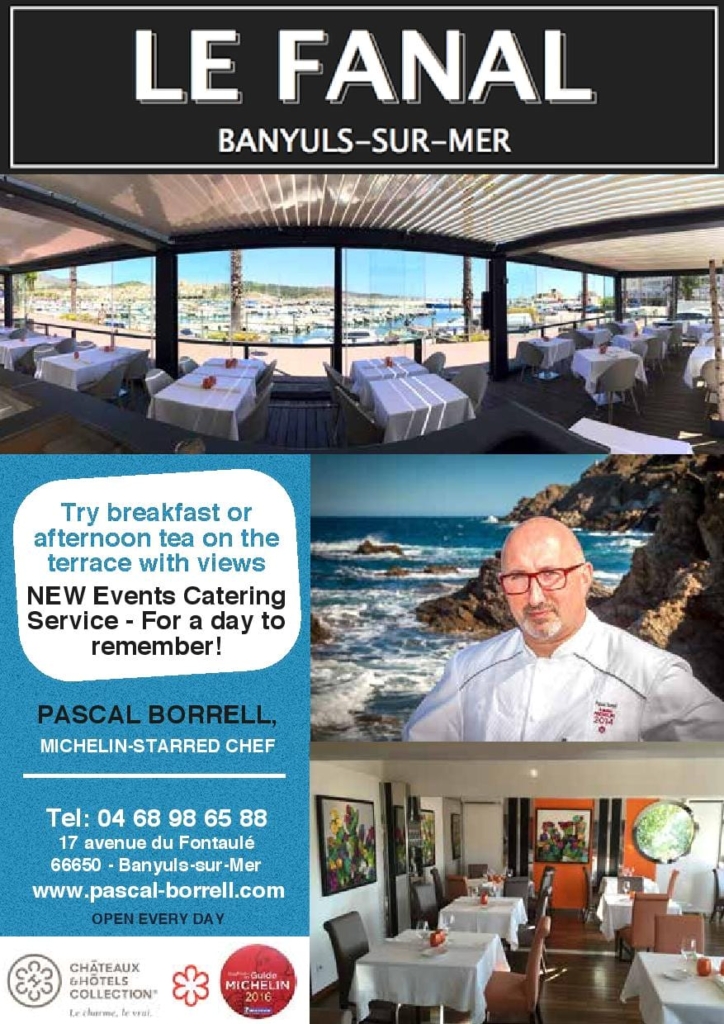 LE BARCARÈS

Another purpose-built resort but one which incorporâtes the wonderful étang de Salses-Leucate – a natural lagoon, the second largest in Languedoc-Roussillon in fact – part of which is a protected site for wild birds, flower and fauna. Le Barcarès also has its share of sandy beaches, a water park with the usual flumes and chutes which is great if you have children, all sorts of boating and windsurfing, and a 100-metre steamship called the LYDIA, beached in the sands since 1967.
Restaurant du Téléski
Eating and skiing has never been more fun! Why not chill out with some oysters at Port Leucate and then come over to the Restaurant du Téléski in Le Barcarès just a short drive away – in a super setting overlooking the tranquil étang or lake. Soak up the views and the bracing sea air, whilst tucking into a delicious range of salads, home-made burgers, wraps, pizzas and home-made desserts.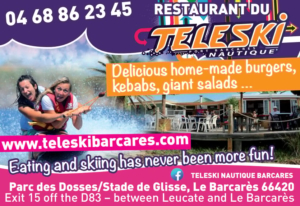 Canet is a modern, purpose-built seaside resort with a pretty village full of narrow, cobbled streets, plus an ancient château and remnants of ancient walls. It offers fabulous walking, riding and cycling for every level through the surrounding nature reserve, carefully preserved fishermen's huts, an arboretum, bird-watching, windsurfing, long and gloriously sandy beach, plenty of shops, cafés and restaurants….and a varied spring and summer events programme.
Torreilles and Sainte Marie are 2 adjacent, small resorts with camp-sites, apartments and villas. Beaches are good with a number of shops and cafés and there is free parking.. If you want to bare all and get that complete tan, there is a 'plage naturiste' at the southern end of Torreilles Plage.
The small and sleepy coastal resort of Sainte Marie la Mer is often overlooked and; overshadowed by its more boisterous neighbours, but from 20th July through to 20th August, it takes centre stage with 32 days of concerts, exhibitions, paëlla contests, wine tasting and much more! Open daily from 11.00 am, discover a range of activities and entertainment for the whole family.
SAINT CYPRIEN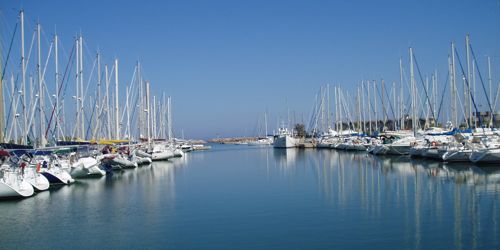 St Cyp, as it is affectionately referred to by its inhabitants, boasts the second largest marina in the Mediterranean (after Port Camargue), and the third largest in Europe – with some 2,200 berths and a wide choice of bars and restaurants to choose from. In the height of summer, with 6 km of fine sandy beach, this popular resort is a must for paddlers and sun seekers alike.
Le Portofino
Dine with amazing views over the port of St Cyprien at Le Portofino. Choose to dine inside or out, this spacious restaurant is open all year round. Offering something for everyone – Catalan specialities, fish & meat platters and a selection of home-made desserts.
---
ARGELÈS-SUR-MER AND PORT ARGELÈS

With 7 km of long sandy beaches, two nature reserves, (Mas Larrieu and La Forêt de la Massane), the timeless Racou beach, and a mountain summit towering at 1156m (Pic des 4 Termes), Argelès is a limitless playground for walkers, cyclists, swimmers, runners and watersports fans. Stroll around the narrow streets of the pretty, bustling, village, perfect for people-watching on the trottoir of one of the many cafés and restaurants. Follow the old ramparts, visit the church and its treasures and climb to the top of the 23-metre tower to enjoy the unique view of the Plaine du Roussillon (guided visits only).
Close to Cap Béar, and with just 790 berths, Port Argelès has a charming village feel to it with its host of restaurants, bars lounges, shops. A regular stop for yachtsmen and visitors alike who love the atmosphere – away from the hustle and bustle of the main resort of Argelès-sur-Mer nearby. Don't miss the dazzling firework display every Wednesday during the Summer months.
La Table du Coin
La Table du Coin serves great tasting and beautifully presented food from February right through to December. Awarded Trip Advisor's Attestation d'excellence, this restaurant ranks among the highest scores with 70% of visitors deciding their experience was very good or excellent – but don't take their word for it, try it for yourself!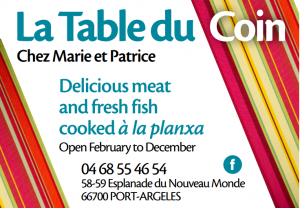 ---
La Mariscada
Since 1989, la Mariscada has been creating an exceptional dining experience, with menus that remain accessible to all budgets. This stylish, modern restaurant boasts stunning views over the port in Port Argelès. Perfect for a special occasion or a romantic evening for two.