Know your seafood
Don't be selfish with your shellfish
Most shellfish in our shops today will have already been prepared, but do make sure that you discard any with broken or closed shells or broken bodies and never overcook..

Les huîtres – oysters
Traditionally eaten raw but delicious grilled with shallots and butter.
Les  moules – mussels
Steamed or boiled, mussels need very little cooking, if you don't want to end up with rubbery flesh. Discard any that fail to open fully.
Les  crevettes – prawns
Boil in salted water till they turn pink. Also delicious grilled, deep-fried, stir-fried in garlic butter, or barbecued on a kebab stick.
Les torteaux – large crabs
Steam, boil or poach, but if you're squeamish like me, better to buy already cooked, as crab is best cooked alive.
Langoustines (scampi)
Boil in well-salted water for up to ten minutes. Pre-boiled langoustines should be reheated gently; or they will become tough. Grill with oil and garlic, or deep-fry in batter.
Les langoustes – spiny lobsters
Cook a spiny lobster as you would an ordinary lobstermuch as you would a true lobster, except of course that you must forget about getting any claw meat from it.
Les homards – lobsters
Cooked lobster can be served hot or cold and is delicious with melted butter, lemon juice or mayonnaise.
Les bigorneaux  – winkles and  les bulots – whelks
Steam, stir-fry or coat in breadcrumbs and fry or enjoy cold dipped in aioli.
Les amandes – dog cockles
Like a small clam, with a sweet, almost almond flavour. Rather tough after cooking
Les praires – Warty Venus or Venus Verrucosa clams !!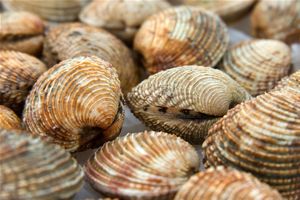 The English name is probably enough to put you off buying these
Les violets de roche
A little like soft oysters with a pungent  orange flesh which isn't to everyone's taste.
Les coques – cockles
Usually bought preserved in vinegar or brine so here's your chance to try them fresh. Grill, sautèe or steam in their shells