Sunday May 24th 2015 – Maury
Les Amorioles, Maury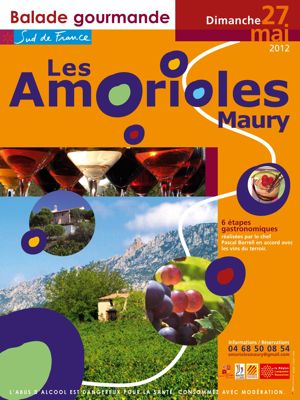 A Gourmet stroll which takes place around Maury every year in the last week of May. With six gastronomic stages, at each stage there will be a dish and a tasting of several wines and you will have the opportunity to meet with the producers and growers.
For more information or to make a booking call 04 68 50 08 54
Around Maury
Perched on their unbelievable mountainous rocky outcrops, the castles of Queribus and Peyrepeteuse dominate the beautiful rolling vineyards of Maury and Cucugnan.
From Estagel take the D 117 towards Maury. Turn off right on the D69 towards Mas Amiel. Well worth a visit for its excellent wine and the sight of the thousands of glass "bonbonnes " full of delicious port like wine starting its long development in the 260 days of sunshine enjoyed at MA each year.
Two centuries ago Raymond Etienne Amiel won his 80 hectare property from the then Bishop of Perpignan at a game of cards. Now its sun baked, wind swept terrain produces some of the best Roussillon wines of the Pyrenenées Orientales.
Stop in Maury to taste the local naturally sweet wine for which the commune is famous, then follow the signs to Cucugnan. As you climb the Grau of Maury towards the border with the Aude you will see the Ch de Queribus on the right, built on its 728m high rocky pinnacle in the XI Century. The last stronghold of the Cathar defence, it fell in 1255. A real eagle's nest, it has overlooked the Corbieres, Fenouilledes and Plains of Roussillon for centuries, guarding the mountain pass of the Grau de Maury. A mere 15 – 20 men were required to man the castle, so clever were its systems of defence. In 1258, with the Treaty of Corbeil, it was right on the frontier between France and Aragon. The HQ was Carcassonne and, with Aguilar, Peyrepeteuse, Puilaurens and Termes, Queribus was known as one of the "five sons of Carcasonne".
It remains to this day a monument to the dramatic events that have marked the turbulent history of this border country.