Llo and Behold!
Les Bains Llo – hot thermal springs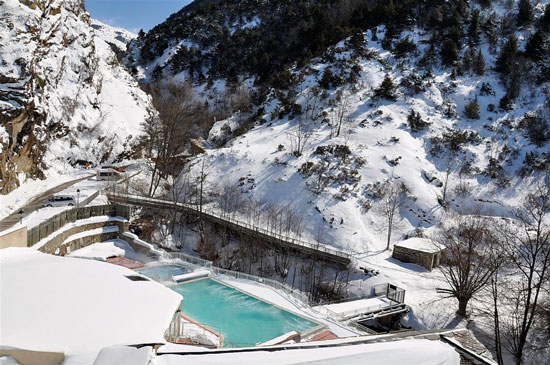 In the Cerdagne and Capcir, when the winter snows cover the land, it's natural that thoughts turn to snow sports, but have you thought of combining a day in the mountains with the delights of the natural, hot thermal springs at Llo?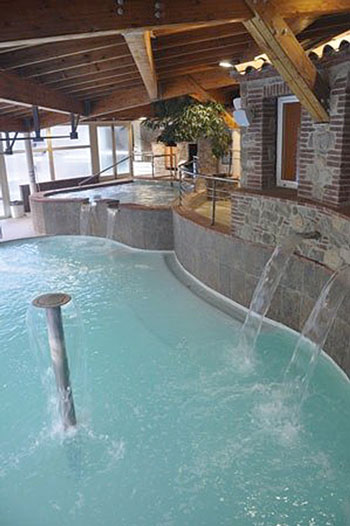 And in the summer, cooler air, stunning mountain scenery, and a rest from the beach and sand in every orifice…. makes a trip to the mountains an absolute pleasure.
Les Bains Llo are offering a range of offers and promotions to tempt you up the mountainside. How about joining their early morning Aquagym classes, free of charge when you have paid your entry fee. Designed to regenerate and tone your muscles without causing any strain on your body, this gentle exercise in hot sulphurous water surrounded by stunning scenery certainly doesn't feel like a trip to the gym, yet it does the trick!
After your Aquagym workout it's time for a spot of indulgence. Chose from a hydro massage, spa, jacuzzi, sauna…. Or for the more hardy visitors, Bains Llo have invented their very own "chemin d'eau froide" enabling you to plunge from cold to hot water, believed to be very good for the circulation.
Aquagym classes start at 10.15am so if you don't fancy such an early start why not make a 'mountain mini break' of it and rent one of their spacious modern apartments, with excellent out of season rates available for weekends and midweek?
To further tempt you, Bains Llo are offering 1€ off the adult entry price upon presentation of PO Life, so don't forget to take your copy along with you! (limited to 2 adults per family)
Originally named Parrochia Allone, shortened to Hello, then Llo, this pretty mountain village is dominated by the ruined monastery of Sant Felieu and La tour del Vacaro, tower of an ancient and equally ruined chateau fort, once home to 19th century "witch" Jean Gobern, known for his skill with herbs.
Recently taken over and renovated by English speaking Yves and Isabelle Jail, a visit to Les Bains de Llo is a luxurious treat within everyone's pocket.
Three outdoor pools, heated to between 34°c and 36°c, and a large indoor pool, have a range of hydro jets positioned to massage your neck and back, legs, feet. There is something surreal about floating in a warm pool surrounded by cold snow – an indisputable' WOW factor, made even better by the knowledge that the sulphurous waters are known to detoxify, maintain soft, smooth skin, ease rheumatism, shoulder, neck and wrist'
An entertaining touch is the "Aqua musique" – lie on a watery bed of bubbles, head supported on a specially designed ledge, ears submerged, and gentle music soothes the soul, lift your ears out of the water and the music is gone! How do they do that?
For a break between the hard slog of moving from pool to Jacuzzi to sauna to steam, a "relaxation room" is equipped with a large screen showing stunning photos of the region. On Saturday mornings, join in the aqua aerobics class free of charge.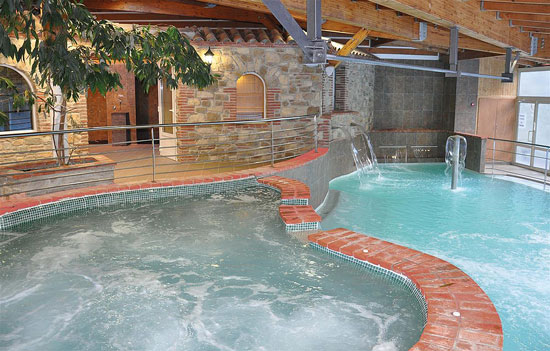 A range of health and beauty treatments and massages are also available to soothe those aching joints, or iron out the creases of a hard day' skiing, climbing or walking nearby.
Lunch or snack in the cafe/restaurant, take a picnic if you want to soak up some of that winter sun, or make a weekend of it and book into one of the large, modern, newly renovated and fully equipped apartments available on site. Great weekend rates include spa treatments, massage, facials and unlimited entry to the baths.
For walking and climbing enthusiasts, the nearby Gorges du Sègre boasts the first "via ferrata" of the Pyrenees. (www.via-ferrata- de-llo.com ) Hire harness and helmet, click onto the route of hand and foot holds, and boldly venture across rope bridge and precipice to the Chapel of St Felieu. There are different routes available for all abilities and the less adventurous can keep their feet firmly on the ground by following one of the 5 marked walking circuits including the mysteriously named "Circuit des Contrebandiers" or Smugglers' route.
Les Bains Llo – 04 68 04 74 55