During the lockdown, when the sun had not yet risen, under the stark spotlight in my kitchen, I broke the silence of the night preparing a bag full of coffee, snacks and art materials. I opened the door into the dark and performed a transmutation from human to shadow and pedalled deftly down the tree-lined avenue flanking the road towards the beach.
Mindful that I only had permission to be outside for an hour, I hurried to see the sun greet the sea. I was often anxious that I would start the day with the notion that I had already failed somehow by not being on time to see the sun open the new day.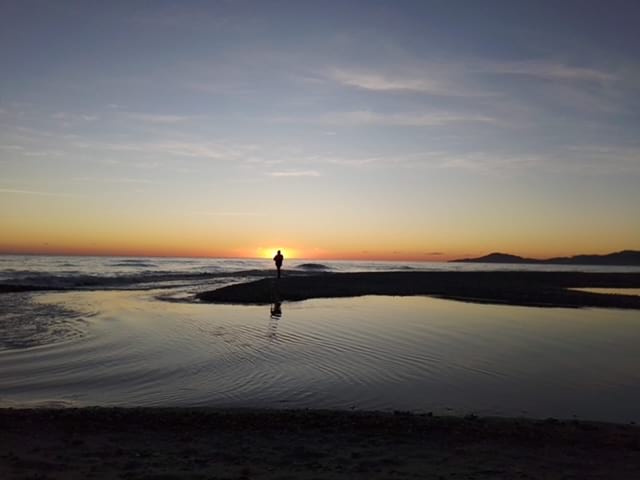 For the first week, I turned left along Plage Sud St. Cyprien. I could have stumbled onto a movie set -picture the break of dawn, the sun cutting a path through the shimmering water, the tangerine sun's flame glinting a celestial halo around my-ahem- rather shapely shadow strolling along the shoreline.
I might star in a scintillating movie, although, more likely an ad for insurance products that promise sunshine, romance and background music if we sign up for one of their policies.
Pebbles made heart-shapes and shells made fish shapes, and patterns made sand-art at intervals along the shoreline. When I could distract myself from the beautiful designs in the sand, I was curious about how French authorities might view this graffiti work when it came to the forms that we had to complete whenever we left home. There wasn't a box to tick for artistic endeavours. Could it be exercise? Or work?  I settled on medical necessity, for an artist would surely die who could not express themselves.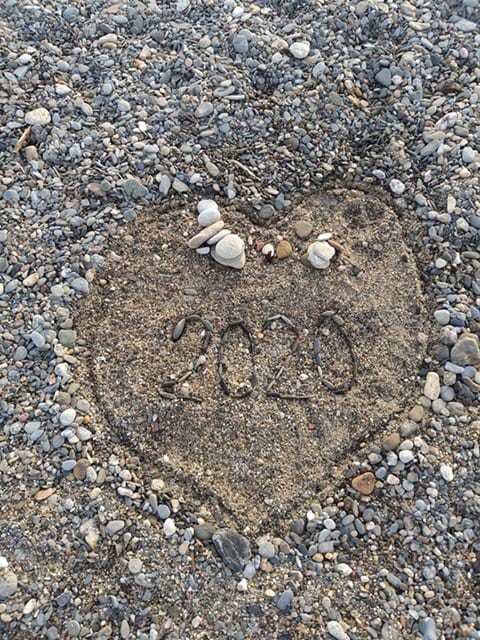 I wondered whether the anonymous artist cared about the sea coming in and washing the beautiful work away with a wave. The employment exists for its own sake, like building a sandcastle, or a snowman. I looked forward to seeing whether or not they survived the night and until the next morning, when I passed that way to appreciate them all over again.
And then there were the days when I get to the beach and turn right. When I first arrived in St. Cyprien, my neighbours told me that it was the most sheltered spot in the vicinity, tourists loved it there and so on, of course, omitting to mention it was a nudist beach; a sign specifies that it is an exclusively nude section.
Another sign announces the department of Elne. How can it be? Isn't Elne in the other direction?  Bocal du Tech Beach is located in Elne, and the world is topsy- turvy there.   With nobody around, I was relieved there was no necessity for me to dis-robe.  When I first saw the roadside sign that has a circle and a red mark over a bikini, I knew my neighbours would enjoy a little giggle at my expense.
In the past weeks, there are only trees lying naked on their backs outstretched in the sand; upturned stumps and roots and depths of hollow bark, their insides spewed threads onto the sand. A strange place of carcasses of trees, their skeletons form monsters. The cold, harsh wrath of the sea and the wind has left behind a graveyard to Storm Gloria. But it is not a maze of trees as volunteers have come and arranged branches into wigwams and many local people are cleaning up their beloved beach.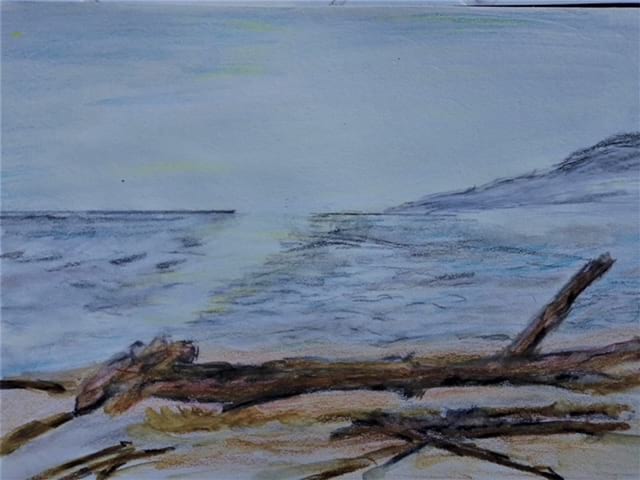 I fell into a habit of being on nodding terms with others who were out and about;  I greeted the sea fishermen before coming to sit on what became my tree stump, a well-appointed armchair. I sat there near the inlet where the Le Tech river joins with the sea.
I just sat. And the sea listened to my complaints. I stared at it, not knowing what to think about this period of our lives. I thought about having no control and the futility of planning.  Other moments I would shake myself out of this introspection and look at the fishermen in their wellington boots standing in the wash of the suds of the sea. I shared the dawn with the fishermen.
In that, the second period of shutdown when everything stayed the same, all I could do was implement a small change by getting up an hour earlier and going to see the sunrise.  And something about being there, looking at the water rolling in, gave me hope that one day our world will be ordinary again.
And then I would have a coffee, perhaps do a quick sketch and cycle home on the road that is called "Chemin de la Mer".  A section called "Mas de la Mer" always made me think about how nice it would be to have that as a home address.
So, as soon as the hairdressers reopened, I called for an appointment. Owing to the rush of people trying to tame their hairstyles between shutdowns, she couldn't squeeze me in, and for a moment, I had to face the prospect of being a long-haired hippie for Christmas.
After some dramatics on my part, whereby I explained that just a quick hedge clipping would suffice, she gave me a 9 a.m. appointment on Saturday. I swore that I wouldn't be a minute late.  The morning of my appointment, I celebrated the dawn. With the restriction of moving from the limited radius of one kilometre for one hour rule lifted, I wondered if I would cease my new morning routine. I felt a bit rushed that day, knowing that I had to go to the hairdresser and so I finished my coffee and resolved to continue getting up early as long as I enjoyed it.
One of the fishermen appeared then and asked me if I had seen a bag. We both looked back and plucked our way through the melee. The effort was futile, of course, but it took long enough for me to panic that I might have to speed up for my rendezvous.  Finally, we gave up the search and said our goodbyes.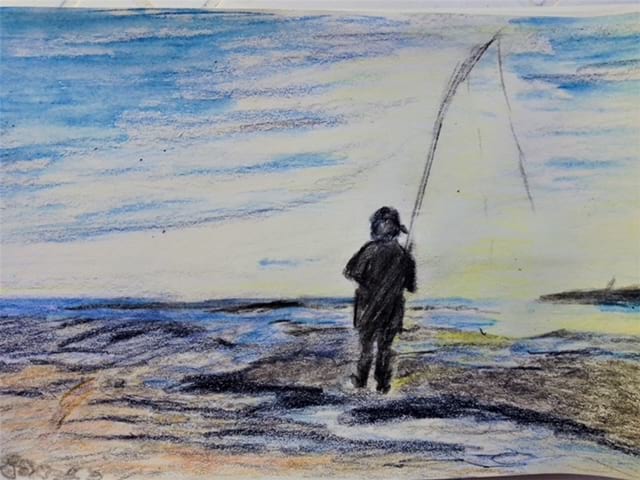 But life was conspiring against me and then another fisherman whom I had never spoken to before, happened upon me and wanted to share video footage on his phone. I found myself gazing at a fuzzy image of a dead sow lying in the sand.  He started telling me about a dead horse that was there a year before, and I was curious, but I zipped my lips and stopped myself from asking any further questions. My mind was busy, engaged in the tune of the white rabbit in Alice in wonderland:
"I'm late! I'm late! For a very important date! No time to say "Hello", goodbye! I'm late! I'm late! I'm late! I'm late! I'm late, I'm late, I'm late!"
I had often thought that it is inadvisable to give a hairdresser any reason to be irritated before taking scissors in hand and so I was forced to interrupt him when he started showing photos of his catch of the day. He took that as a sign to go quicker then, and I soon realised that he wanted to show me a photo of every fish he ever caught. I couldn't help but have a pang of sadness for the recently deceased pearly fish, but I don't believe that was the emotion the fisherman desired me to share, so I feigned admiration and excused myself.
Then one of the daily walkers hollered over to me as he wanted me for something or other.  I waved him off and showed how I was about to run. I had to go. I parted the scene, with blinkers on, off to the hairdresser. Out of my way!
When I finally sat into the hairdressing chair, I realised that all that time that I thought I was a lonesome shadow in the morning light, I was surrounded by people who noticed my presence. We had never talked before that day, but we were already acquainted.
After shutdown, we all get a chance to re-connect; in stepping out from an isolating time, we don't want to have anyone out there who feels truly alone. It's nice to be familiar. I wish for us all to connect again soon.