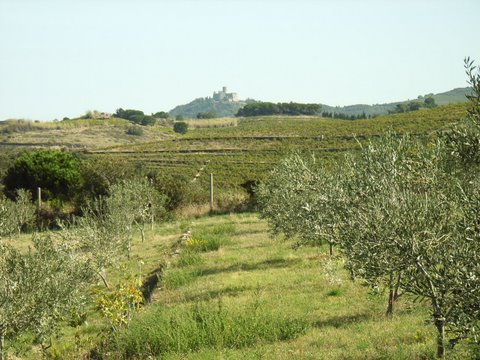 The olive tree is among the oldest known cultivated trees in the world,  and fossilised leaves going back as early as 8,00BC have been found in Roquevaire in southern France.
It's actual cultivation is believed to have started around 4000BC in Greece and eventually spread to other Mediterranean countries.
The legend
The olive (Olea europaea) has provided food, fuel, timber and medicine since ancient times, and is regarded as a symbol of peace and wisdom.
According to Greek legend, it  was the result of a quarrel between Athena, goddess of wisdom and science, and Poseidon, god of the sea.
The story goes that the two of them were arguing over the protection of a new town. In order to resolve the dispute, Zeus suggested that each make a gift to humanity and the god judged to have created the most useful gift would be granted the right to protect the town.
Poseidon touched a rock and out leapt a magnificent horse capable of carrying many riders and arms.
Athena touched a piece of land and brought out a tree which could feed, heal wounds and colds, and live forever. She was pronounced the winner and given the protection of the town which bears her name, Athens.
The growing
The hot dry summers and cool winters of the Mediterranean are the ideal habitat for the olive tree which can be grown on poor stony ground.
It takes 5 to 8 years to produce its first fruit, but has an extremely long and productive life – up to 600 years, sometimes more.
The preparing
The only difference between green and black olives is the ripeness — green are picked when they are immature, black remain on the tree longer.
To prepare, place both black and green olives in a bucket of water and change the water every day for the next 2 weeks.
After 2 weeks, place the olives in another bowl filled with vinegar. Allow to marinate in vinegar for 2 days.
Remove the olives from the vinegar and place them on a tray. Cover the olives with coarse salt.
Leave them in salt for a day, brush off excess and add to brine solution. (one litre of water to approximately 250mls to 400mls of vinegar). Add a handful of salt and 1 tablespoon of sugar. Stir, et voilà!
Health benefits
Olives are high in monounsaturated fat, iron, Vitamin E, and dietary fibre. The olive leaf has been used for centuries to treat wounds, haemorrhoids, reduce fever, and as a general antiseptic. The bark of the olive tree was used in ancient times to make an infusion to treat wounds.
Some olive facts
The first Olympic flame was a burning olive branch.
It is classed as a fruit.
It is said that Moses granted olive growers an exemption from military service, so revered was the fruit.
Olive tapenade
Olive tapenade is a delicious and easy-to-make spread that you can use as a dip, spread, or topping for fish and poultry.
Ingredients
100g stoned black olives
2 tbsp capers, drained and rinsed
1 plump garlic clove, crushed
85ml extra-virgin olive oil anchovies or anchovy  paste, (optional)
squirt of lemon juice
fresh cracked black peppe
Place pitted olives in a food processor with garlic, capers, anchovies or anchovy  paste, lemon juice and pepper and blend until smooth. With the motor running, pour in the oil in a slow, steady stream. Season well.