A December, January or February day out in the mountains can be pretty invigorating. So easy to drive up to the mountains or take the bus or Yellow Train. All the Pyrenean resorts are super friendly and very family orientated. The skiing may not be quite as challenging as the Alps but the slopes are well tended and, for the middle to beginner skier, perfect.
Booking is certainly recommended for the Christmas and Half Term school holidays. Les Neiges Catalanes offers a fixed price ticket for 8 resorts and 4 cross country areas giving access to 288 kms of Alpine skiing, 107 ski lifts, 1330, 360 kms of cross country, 13 ski schools and 10 snow parks. 1330 snow blowers make sure you will have plenty of snow even if the winter is a mild one.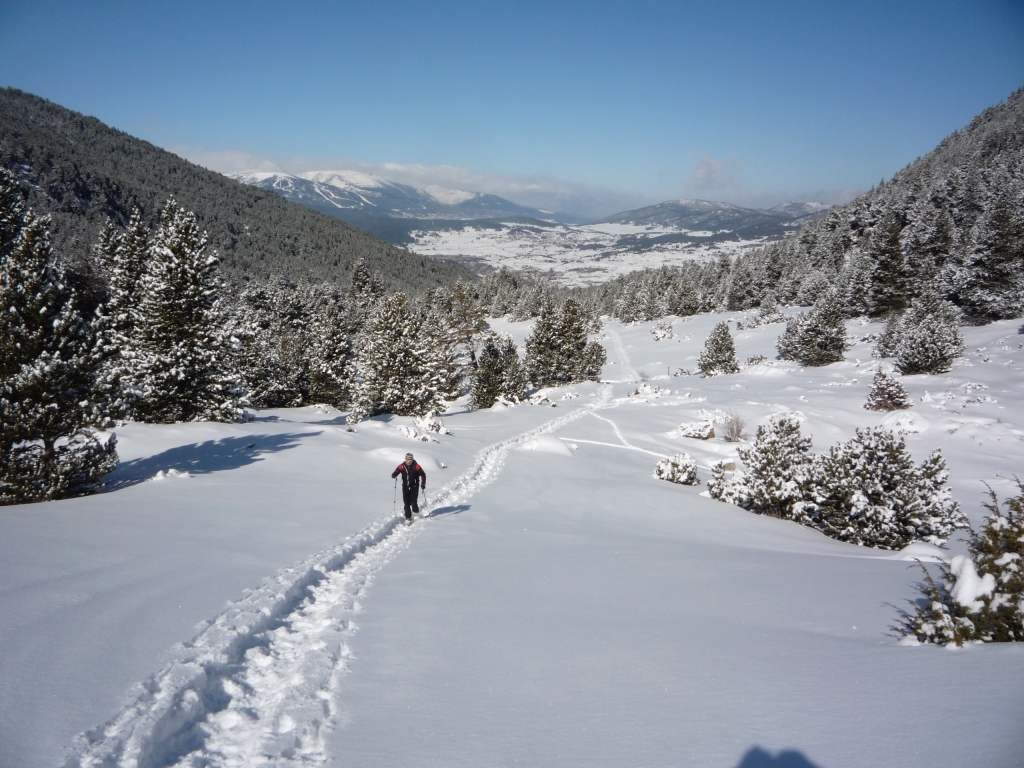 For boarders the snow parks have half pipes, slide kick and box ramps galore and the region is famous for its competitions. The cross country ski runs through breathtaking scenery are long and varied.
Snow shoeing (Randonnées en Raquettes) can be fun. Snow shoes used to be used by trappers and fur traders. Although forest rangers still wear them, their use has become predominantly recreational, the freedom they give enabling one to get around areas of deep snowfall. Take a guide and rediscover the tracks of wild animals and birds, enjoy the calm rhythm of the countryside and closeness to nature. Mike and Jenny Rhodes of Pyrenean Trails can not only accompany you but can arrange a lunchtime barbecue picnic halfway through the day or an overnight in a mountain refuge in the majestic scenery they know so well.
A more leisurely way to swoosh through the snow is on a husky drawn sledge…… or  you could hire a four wheeled mountain bike and follow well bashed trails through the forests. Both ecologically sound and original, "le Quad VTT" can be hired.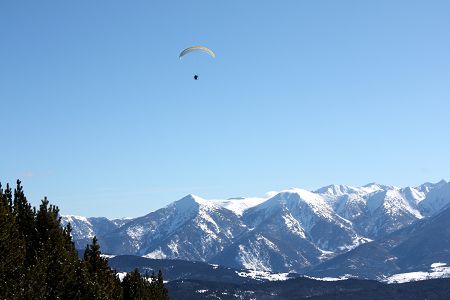 Or why not take to the skies??? Kite skiing is pretty exciting! The sun, the thermals and the Tramontane all combine to make  an extraordinary winter sporting experience. Ski 'n co will fly you tandem for an unforgettable view of the mountains and teach you all you need to know about winter paragliding… They have also started "Biathlon" which literally means a combination of any two sports, but in this case, the two sports are cross country skiing and rifle shooting.  Vol'aime also arrange paragliding courses for all levels
If the sky is not to your taste you could go diving beneath the ice of Lake Matmale with the Rederis dive club of Banyuls sur Mer. Contact Gilles on 06 11 58 52 28 for a bit of plongée sous glace!