Saturday 24th September 2011 Prats de Mollo
Pyramide de chaussures
Charity shoe pyramid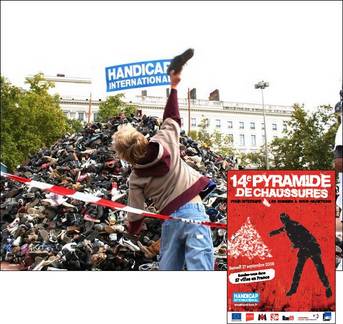 International's Ban Cluster Bombs campaign

Handicap International invite you to join them in building a pyramid of shoes in Prats-de-mollo on October 8th. Each shoe symbolises the lives and limbs lost to cluster bombs and other explosive of war. Bring along all your old shoes and place them on the pyramid to show your solidarity. After the protest, the shoes will be distributed to charitable organisatiions. Shoe pyramid, craft market, castellers, sporting events…….
Cluster bombs are canisters containing up to several hundred bomblets, which spread over a large area once dropped or fired. Millions of bomblets were dropped during the recent conflicts in Kosovo, Afghanistan and Iraq, killing and maiming civilians. Cluster bombs violate the Geneva Conventions, as they affect civilians and military forces indiscriminately. Cluster bombs which do not explode on impact effectively pose the same threat as landmines. They can explode at any time, killing and maiming sometimes long after a conflict has ended.
Numerous countries, including the United Kingdom and France, continue to produce, use and export cluster bombs. Faced by the current and potential scale of the damage, it is urgent that international humanitarian law is enforced now.
Handicap International exists to support the needs of disabled people in countries affected by poverty and conflict. They provide both emergency relief and long term development support.

Dites NON aux mutilations! Dites NON aux bombes à sous-munitions!
Les sous-munitions sont de mini-bombes regroupées par dizaines ou par centaines dans des conteneurs de type variable. Déversées par millions durant les trois derniers conflits (Kosovo, Afghanistan, Irak), elles ont causé une véritable hécatombe parmi les populations. De plus, 5 à 30% d'entre elles n'explosent pas à l'impact. Comme les mines antipersonnel, elles peuvent être déclenchées au moindre contact, tuant et mutilant longtemps après la fin des conflits.
Pour les victimes, il n'y a aucune différence entre une mine et une sous-munition non explosée. Elles sont capables des mêmes atrocités, et bafouent les règles du droit international humanitaire en n'opérant aucune distinction entre civils et militaires. Pourtant, alors que les mines antipersonnel sont interdites, les bombes à sous-munitions sont considérées comme légales : leur utilisation n'est pas limitée.
Ainsi, de nombreux pays, dont la France, continuent de produire, d'utiliser et d'exporter ces armes.