Friday 19th and Saturday 20th October 2012 at 8.30pm
In Love With Shakespeare,
A fun production about Shakespeare's works and the Elizabethan theatre with 'La Falaise' theatre company.
at

La Fabrica, Ille-sur-Têt
'To be or not to be'', is world famous….
But Shakespeare, the universal author who wrote so many masterpieces, is still fairly unknown. So, what were the theatres and the companies like back in the Elizabethan days ?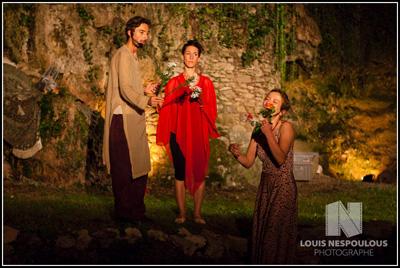 What would a performance of Hamlet have been like in 1612 ? And who would have gone to see it ? In Love With Shakespeare is the story of a bilingual acting company that comes to perform Hamlet in a venue in France.
A succession of strange events leads audience and actors on a delirious tragicomic adventure, between dream and reality. Dive into Will's day and age and discover his world. Experience the French and English languages blending together throughout this journey and (re)discover Shakespeare's works thanks to the actors' passion for Shakespeare.
This production is for English and French speakers alike!
«These actors charmed their audience, opening the doors to Shakespeare's world.»
«An unforgettable experience »
Press, Cabreret-Vers, Septembre 2011