Marathon du Vignoble, Vallée de l'Agly
---
Event Navigation

Marathon du Vignoble
– wine marathon through the Agly valley
The 3rd annual Marathon Vertical du Vignoble in the Agly-Fenouillèdes valley will take place on Sunday 29th October 2017.
Discover the superb scenery and the finest local wines during this multi-stage marathon event hosted by local vineyards. As well as the main 43km marathon, there will also be mountain bike trails, conferences, debates, kids entertainment, a wine salon for non-runners, and a screening of the 2016 film, Raid in France.
Running solo or in groups of up to 4 people, participants will complete each of the 4 stages, known as 'un relais', covering approximately 10km each time through the different wine growing environments of the region.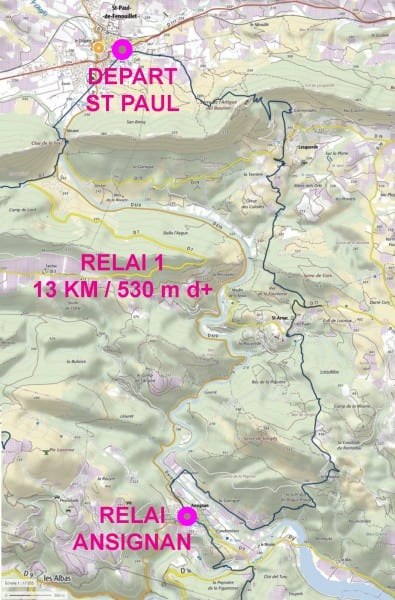 Relai 1 : Saint-Paul de Fenouillet to Ansignan (km13)
The race leaves from Saint-Paul de Fenouillet, and heads towards the old iron mines of Lesquerde.
Passing through granite-rich vineyard of Appellation d'Origine Contrôlée Côte du Roussillon Village, runners will be afforded a spectacular view of the Canigou summit.
Crossing close to Saint-Arnac and its famous goat herd, the circuit hugs the Rentadou, the Pic de Vergès and culminates at an altitude of 600m on the Fenouillèdes.
Descending to cross the Agly river at the aquaduct of Ansignan, 170m and spanning 29 arches, and taking in the historic dolmens.
Relai 2 : Ansignan to Prats-de-Sournia (km23)
A glimpse over the lac du plan d'eau de l'Agly, then the vallée de la Désix and its dense oak forest which lines the path.
Passing through Pezilla-de-Conflent, a village sheltered from the Tramontane and enclosed by ancient dry stone walls and representing the culturing of vines in terraces.
A steady climb up to le balcon du Fenouillèdes requires a little effort but will bring runners to Prats-de-Sournia, dominated by it s signalling tower, witness to the former border between the Kingdom of France and the Kingdom of Arago.
Breathtaking 360° panoramic views over the Bugarach, the Corbières, the Roussillon plain, the twinkling Mediterranean sea, the Albères the Pyrénées and the summits of Canigou, Carlit and Madres.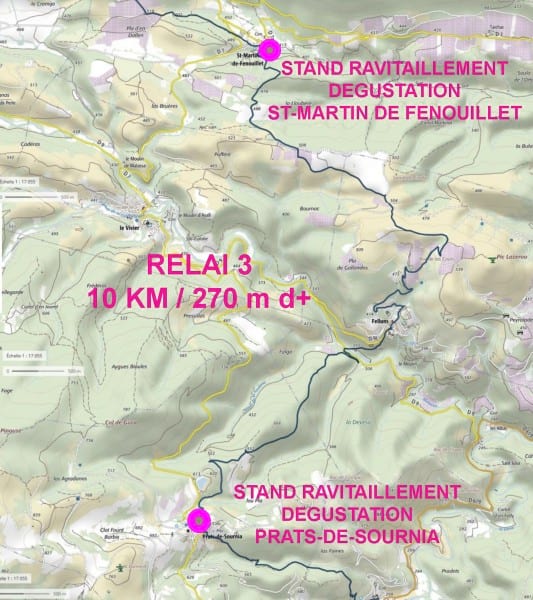 Relai 3 : Prats-de-Sournia to Saint-Martin de Fenouillet (km33)
The forested mountain of Boucheville is home to the Fajas d'En Baillette, a remarkable tree over 500 years old. The sinewy path will lead runners to the higher vineyards of the Fenouillèdes, towards Saint-Martin.
The geologically-rich earth is renowned throughout the world; a product of the coming together of the African and European continents over 40,000 years ago! Sedimentary layers from a secondary sea form spectacular rock formations and grandiose scenery.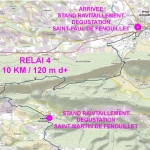 For more information and registrations:
www.engage-sport.com
endufenouilledes@gmail.com
06 78 97 67 03