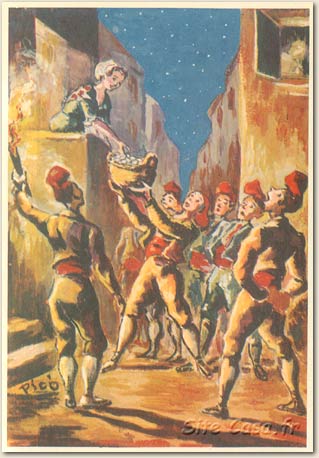 A tradition that dates back to the Middle Ages, the "goigs dels ous" (or "joie des oeufs" in French) are traditional Easter songs; ancient hymns sung by choirs in traditional Catalan costume, signaling a return to life after the sadness of winter.
Solemn choirs would wander the streets at night, and whole families would stand in their doorways and listen in fervent silence to the religious 'goigs'.
The eggs of the title were a symbol of fecundity, rebirth, the resurrection. Traditionally, the bachelor of the choir would carry a "cistella", a basket for contributions of eggs, black pudding, charcuterie, wine…… making sure that the singers ended up with everything they needed to cook up an Easter omelette the following day. Villagers would give these gifts in thanks for the music.
If you wish to hear some 'goigs', without handing over your eggs and black pudding, here is a selection of the towns and villages where they take place annually during the Easter period. This is a list of TYPICAL events which vary every year. (CORONAVIRUS OBLIGE AS ALWAYS)
---
Check with tourist offices for exact details of time, place etc.
THESE MAY TAKE PLACE ANY DAY AROUND THE EASTER PERIOD
Goigs in the streets of Amélie and Palade
The traditional *Goig Dels Ous, and Catalan songs usually take place in the streets on Saturday, including the handing over of the *Cistella at the Musée Casa de les Alberes.
Banyuls
If you would llike an 'aubade', a type of serenade below your balcony, Romeo and Julliet style, ring the Banyuls tourist office
Traditional Goigs dels ous parade departs at 15H00 near Carrefour and heads into town.
Male choir usually sing popular Catalan songs at the espace la Catalane.
Collection of Easter omelette ingredients with musical entertainment and communal picnic.
Easter procession and goigs with choirs dressed in traditional costume.
Morning – "Aubade" to collect ingredients for the Easter omelette.
Aubade in Saint-Cyprien Village and collection of eggs for the Easter omelette
Depart on foot : place de la République
WITH SIMILAR ACTIVITIES (goigs, sardanes, aubades) IN…………..
Bompas
Collioure
Corneilla-del-Vercol
Les Angles
Prades
Molitg-les-Bains
Ponteilla-Nyls
La Preste
Prats-de-Mollo
Saint-Laurent-de-Cerdans
Saint André
Sorède
Villeneuve de la Raho
…..and many more of the towns and villages throughout the region
*Catalan tradition (a basket with eggs for the Easter omelette, wine, saucisson…) for the singers