Pretty Perfect P-O Picnics
WITH KATYA WILLEMSEN
(Read Shepherd's Prayer, Katja's fast- paced adventure set in Collioure.
Available on Amazon)
---
Idyllic picnic spots are often those discovered by accident. Somewhere off the beaten track, perhaps hidden behind bramble and tumbledown mas, or next to a small stream in a forest of gnarled cork oaks. Here are three scenic picnic spots near the tiny hamlet of Evol, perfect to throw down a rug and open a bottle of wine.
The sun was low in a wintry blue sky when we set off through the Têt valley to explore Olette. Disappointment at this sad patchwork of crumbling crépis switched to delight when we spotted a green and red sign for "Les Plus Beaux Villages de France". A quick change of plan and we were heading up a spaghetti strand road leading into the cleaved ravine of the Evol River. (See box inset for exact directions!)
This authentic little gem of a village, which takes the river's name, clutches onto the northern flank of Mont Coronat. Time has stopped in Evol. The mottled schist houses with their slate roofs and smoking chimneys are a rugged reminder of the fierce winters that have battered the hamlet for centuries on end. Pregnant bulges of bread ovens can still be seen on some of the external walls. It's easy to picture donkeys hauling carts of schist from the nearby quarry and Catalan men, cheeks ruddy from the cold, cleaving each tile with pride whilst their black-clad women dry figs and bake bread.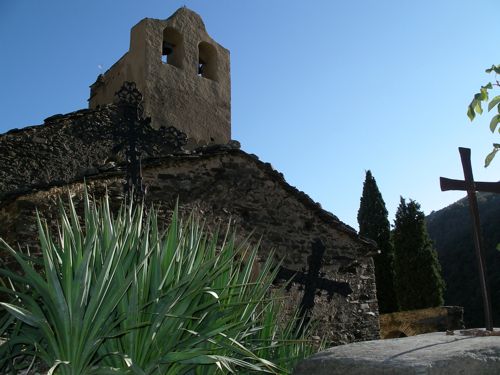 The church of Saint André dominates the hamlet and its cemetery is well worth a look for its ornate collection of iron crosses, many still adorned with the heart-shaped porcelain grave markers so popular in the early 20th century.
Once you've walked the cobbled streets, drive through Evol, following the signs to Les Etangs/ Col de Portus. (The road is a bumpy mixture of dirt and old tar.) The first picnic spot is at the humble chapel of Saint Etienne. If you see a weather beaten wooden sign for Capella Sant Esteba X111, you've gone too far!
Jostle down the untarred slipway on the left and park next to the chapel. Unfortunately, like so many churches these days, the door is locked but the slate roof is at a perfect pitch for close- up inspection of the handmade tiles. Head down the side of the chapel to the wooden bench for picnicking in comfort, or a little further to the grassland under the trees if you packed a blanket. Both options have spectacular views over Evol and down the valley to the Spanish border.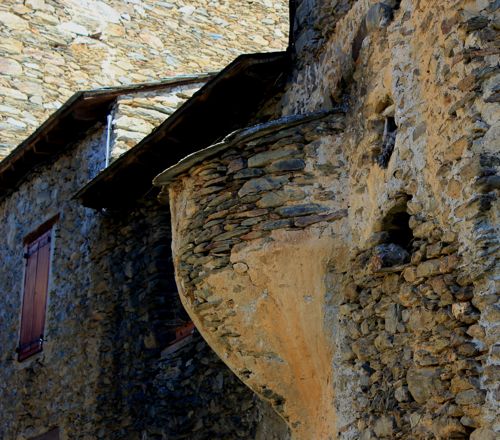 If you're up for a ten-minute easy climb, or it's a windy day, walk across the road and up to the ruins of the 13th century castle to picnic spot number 2. Inside, you'll be protected by walls that have fought off onslaughts far greater than even the Tramontane!
For the really adventurous and those with 4×4's, keep driving deeper into the ravine. Normal cars do venture on this dirt track but only do so if you have nerves of steel and good insurance. The scenery is breathtaking with jagged mountain spikes ahead and dense forest on either side. Follow signs to "Les Etangs". After about half an hour, paradise and picnic spot number 3 await at the Refuge de la Mouline. Wooden tables are scattered in between the trees, some shaded, some in the sun, and further along from the refuge, there are plenty of flat rocks on which to balance a glass of wine. Bon appétit!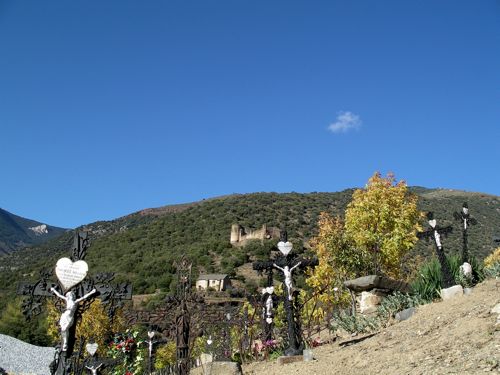 About Evol
☛ A particularly authentic Pyrenean hamlet with houses of schist and roofs of slate.
☛ 9th century Roman church of St André
☛ Chapel of Saint Etienne
☛ Remains of 13th century castle of Vicomtes de So
☛ Work place of Ludovic Massé, Evol's maverick writer-poet.
How To Get There
☛ Take the N116 to Prades.
Allow about 35 minutes from Prades to Evol.
☛ Stay on N116 and follow signs to La Rocade.
☛ At Villefranche-de-Conflent, take first exit, passing the fortified village on your right.
☛ Continue along this winding continuation of the N116 until you reach Olette.
☛ Watch out for the "Plus Beaux Villages de France" sign on your right, and take this little road (D4) for about 5 minutes to Evol.