What's on over summer in Saint Cyprien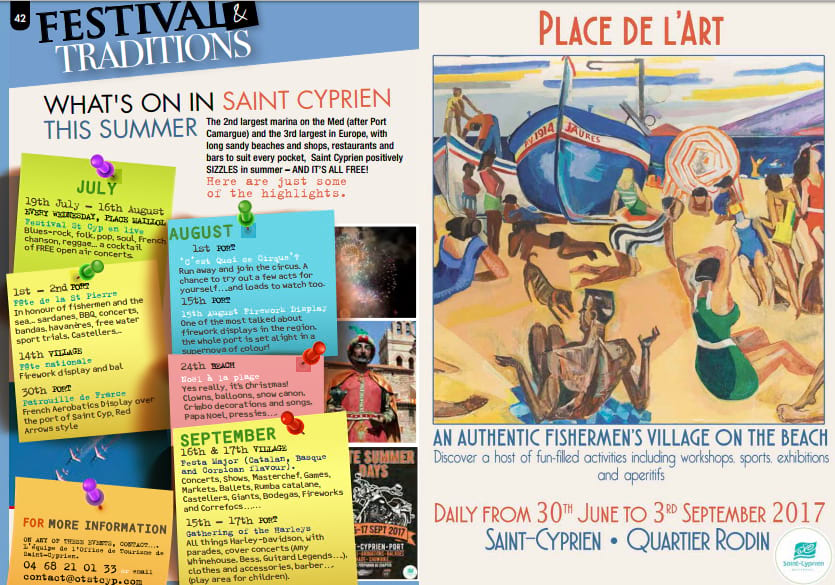 Even in the height of summer, with 6km of fine sandy beaches, Saint Cyprien is a must for paddlers and sun seekers. But don't be fooled intothinking that it's all about the beach…
As the 2nd largest marina on the Mediterranean coast, not to mention the 3rd largest in Europe, Saint Cyprien's varied and unique summer programme is designed to suit all ages and tastes.
Visit the authentic fishermen's village on the beach in the Quartier Rodin and discover a whole host of fun-filled activities, workshops, exhibitions, sports competitions and apéritifs.
Here are just some of the highlights
JULY
St Cyp en Live
Every Wednesday, 19trh July – 20th August
Free open air concerts in the Place Maillol: reggae, blues, pop, soul and much more besides.
Patrouille de France
Sunday 30th
Aerobatics over the port from the French equivalent of the Red Arrows
AUGUST
C'est quoi ce cirque?
Tuesday 1st
Circus workshop at the port with demonstrations and a chance for you to have a go too!
Midsummer Fireworks Display
Tuesday 15th
Surely one of the best firework displays of the summer lights up the port.
Noel à la Plage
Thursday 24th
Cool off with Christmas at the beach- snow canons, carols, decorations and the man himself with plenty of presents.
SEPTEMBER
Gathering of the Harleys
Friday 15th – Sunday 17th
Parades, concerts, clothes and accessories around the theme of the iconic Harley Davidson.
Festa Major
Saturday 16th – Sunday 17th
A weekend of colourful, flavoursome celebrations across the village.