Saturday April 5th 2014 at 20h
Andrés Peña – "Tablao Flamenco"
Hotel des Vignes ( Rivesaltes )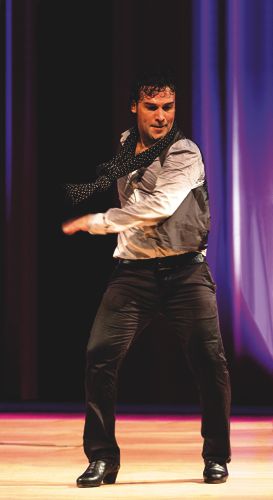 Undisputed maestro of dance, Andrés Peña, will perform for the first time in Perpignan …
To celebrate its first show at the Municipal Theatre of Perpignan next Saturday, April 5 at 20h , la Reja Flamenca welcomes Andrés Peña for a spectacular flamenco evening, followed by Tapas.
Two days of workshops will also be offered on the 5 and 6 April with a chance learn flamenco dance with Andrés Peña and Eva Luisa, guitar with Jesus Guerrero and Antonio Ortiz, singing with David Carpio and cajón and rhythm with Juan – Manuel Cortes ).
Born Andrés Peña Morón, in Jerez de la Frontera, he made his first Flamenco-moves at the age of 10 and soon he took lessons with Angelita Gómez. Αt the beginning of his international career Andrés Peña was rewarded as the best young dancer at the XI Bienal de Flamenco in Sevilla.
This year, he received the Audience Award of the Festival de Jerez, arguably the most legendary Flamenco Festival, and greatest flamenco distinction.
His show "Tablao Flamenco" which will be presented Saturday, April 5, is a modern adaptation of the old "Cafe Cantante". Accompanied by the powerful vocals of David Carpio, and the brilliant guitar of Jesus Guerrero, it is a show of authentic artists – pure flamenco.
Immerse yourself time for a weekend in the universe of Flamenco, book now on 06 63 18 23 21 or contact@la-reja-flamenca.com. Hurry, places are limited!