BRAVE USAP
RACING METRO(PARIS) 19 – USAP (PERPIGNAN) 16
With Mike Thomas, Sorède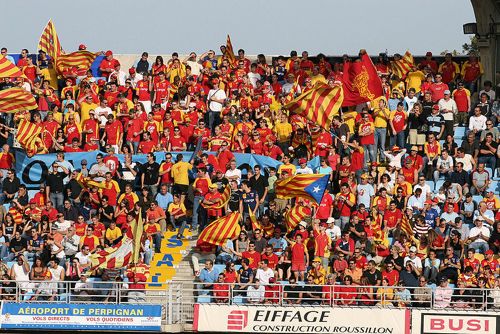 Another pulsating, high energy USAP performance that ended in narrow defeat. Is this to be the story of the season? This is the second loss in a short period of time against a wealthy Parisien outfit, resulting in the Catalans finding themselves towards the bottom of the table, rather than challenging for the leadership.
USAP coach Marc Delpoux was extremely critical of the referee in his post match interview and claimed that in both games his side have been refereed like a ''petite equipe.'' Many major decisions have gone to the advantage of their opponents and this must stop.
The fact that USAP blooded many new young players and still came close to winning this one must be a positive sign for the future. The star for me was twenty year old fly half ''Tommy'' Tomasso Allan. Born of an Italian mother, who was an Italian rugby international and a Scottish dad, who played for Western Province in South Africa, this young man has rugby pedigree. Furthermore his uncle was capped at hooker for both Scotland and South Africa. Young Tommy has looked class since his brief debut in the friendly against Clermond. On Sunday night he gave his Irish international opponent Jonathon Sexton a real run for his money.
Sexton and Allan dominated the scoring, four penalties and a conversion for the former and three penalties and a conversion for the latter. Fall scored a try for Racing and USAP received a penalty try following an exciting run and dribble by South African Mjekevu. Hook had a late and ambitious opportunity to equalise with long range penalty which fell short.
For Racing, Fall at full back and the burly Welshman Jamie Roberts were a handful. In the USAP ranks the young Catalan flanker, Rabat, had a good debut and Chateau, recently recruited from Toulouse, looks a good prospect. Massive second row Romain Taofifenua was ''monstrous'' in the rucks and the Scottish warrior Ali Strokosch made his presence felt when he came on after 60 minutes.
Next up Montpelier on Friday the 13th. Another ''grande equipe''. Let us hope USAP have a fair rub of the green.