Saturday 31st August – Sunday 1st September 2013
Fêtes Médiévales (Medieval festival)
Chateau Vicomtal, Canet village – Saturday from 16h – 23h30 and Sunday all day (10h00 – 19h00)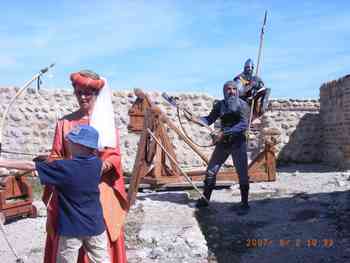 Great fun for all the family, this medieval festival and market takes the town back in time with medieval crafts, stalls, people dressed up in the costumes of the XIIIth century, fire eaters, sword fighting, re-enactments of medieval scenes, jugglers……
Numerous theatre groups will present period plays in the streets. Archery for the children, open air cinema, and medieval market.
Lively and colourful, with music and dancing from medieval times and grand firework display along with the 'setting alight' of the chateau.
SATURDAY 16h00 – 23h30
Medieval Market centre of old village
Medieval Games
Campements de vie au château, Saynètes de vie théâtrales et fabliaux, combats et démonstrations, ateliers de vieux métiers… avec les Compagnies : Commanderie des Templiers, L'Equerre et l'Epée, Limiers de Varey, Ecole de combat Médiéval, Les Batsarror…
Musicians : Els Salanc'aires et Les Tanarucks
Théâtre de rue et bouffonneries : Le mât de perroquet, Histoire en spectacles
Stilt Walkers : Les Tanarucks, visuel de rue féerique
Falconry : Présentation de rapaces en vol par les Fauconniers de Peyrepertuse
Parades: troupes et figurants en présence des géants de Canet
Place St Jacques
21h30 Spectacle de Feu by the Tanarucks
22h00 Grand spectacle « CATHAROS » l'Histoire Cathare, spectacle Historique vivant.
SUNDAY 10h00 – 19h00
Same as Saturdayi
Costumes can be hired at the "Trac Company" on Avenue Ste Marie, who offer a wide variety for rental
04.68.86.72.13.