Somewhere to visit in December… Sant Vicens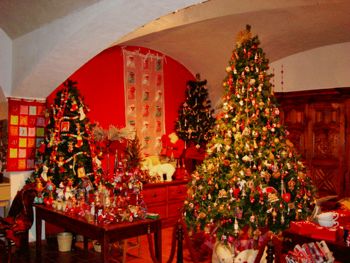 South-west of Perpignan, heading out on the road to Argeles, follow signs to Cabestany and Sant Vicens, off the Macdonalds roundabout at the end of Bvd Kennedy.
Ceramics, paintings and tapestries fill an exuberant Aladdin's cave of artistic treasures in the old vaulted wine cave of Mas St Vicens in the St Gaudrique quarter of Perpignan.
At Christmas, most of December in fact, a spectacular Creche, created in the Sant Vicens workshops takes up the main stage of the old wine vault, well worth a visit.
Initially, Sant Vicens was a 18th century farmhouse, surrounded by vines, in an area which was later to become Saint Gaudérique. During the occupation, in 1942, several ceramists left the potteries of Sevres to search for a place in the unoccupied zone to carry on their works. On two brother's initiative, Firmin and Denys Bauby, the pottery of Sant Vicens was created and the first oven was inaugurated in the presence of Aristide Maillol.
Many local artists, joined in, and the farmhouse cellar, which consists of two rows of large oak casks, was transformed into a gallery for ceramics. In 1950, Jean Lurçat (1892 – 1966), French artist noted as a renovator of contemporary tapestry, came to Sant Vicens. Attracted by the quality of the pottery, he was followed over the years by Salvador Dali, Pablo Picasso, Charles Trénet, Yehudi Menhuin,……