JULY AND AUGUST AFTERNOONS IN BELESTA
CHILDREN'S WEDNESDAY WORKSHOPS AND THURSDAY CAVE VISITS WILL BE AVAILABLE FROM THE CHATEAU MUSEUM OF PREHISTORY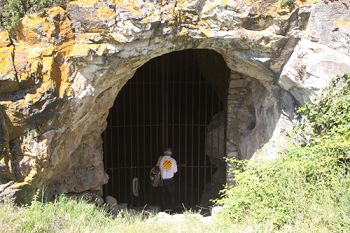 In Belesta's Chateau Museum, ten minutes drive from Ille sur Têt, very Wednesday afternoon at 3pm during July and August, children's workshops will be held.
Designed for 6 – 12 year olds, for 2.50 euros, pottery, weaving, jewellery making and stone engraving will be taught. All you need to do is ring 04 68 84 55 55 and book in.
And that is not all. The oldest communal sepulchre to be discovered in Europe is in a cave just behind the village. Until 1983 it was played in by local children, was rumoured to be a haunt of witches, was used as a shelter for sheep. Then, potholers discovered a passage leading down and down through various caves… Archaeologists, led by Mme Françoise Claustre, uncovered the bones of thirty or more human beings as well as twenty eight beautiful pottery vases dating from 4715 / 4365 BC. These are now on display in the museum as is a perfect reproduction of the original cave. The cave itself, on its arid limestone hillside, is barred and locked. This summer, again in July and August, but on Thursday afternoons, a 3.5 or 4.5 euro ticket to the museum entitles you to a guided visit of the cave.
For walkers, the cave entrance lies on the "BALADES A TRAVERS LES AGES", a walk of three to four hours taking in an old "Ice Well" where ice was stored for the Seigneurs of the Chateau of Belesta, the ancient canal of irrigation ending at the mill known as the "Moulin d'En Gateu" and two of the "Bournes Frontieres" of the old border between France and Aragon following the 1258 Treaty of Corbeil.
A walk from Belesta in the opposite direction takes in a spectacular dolmen and a ruined pre-Roman chapel.