Thursday 8th March 2012

Le Grenat, Théâtre de l'Archipel, Perpignan
GRUPO COMPAY SEGUNDO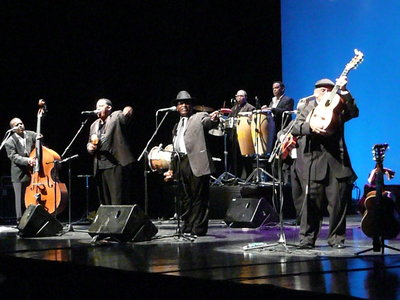 On the death of Cuban trova guitarist, singer and composer, Compay Segundo in 2003, his son Salvador Repilado with Hugo Garzon and the Buena Vista Social Club musicians, created the Grupo Compay Segundo, to continue his father's musical legacy and his musical influence is still present on stage. The band plays his classic hits: Chan Chan, Μacusa, Sabroso, Las Flores de la Vida,
Guitar meets drums at the foothills of the Sierra Maestra, where folk culture and African tradition produce the ultimate Cuban sound. The band have brought Cuban music out of the Caribbean and into our concert halls.
They will warm your hearts with their contemporary Cuban musical culture played with passion and limitless energy.
More info:
‪Le Théâtre de l'Archipel‬
‪Avenue Général Leclerc‬
‪BP 90 327 – 66003 Perpignan cedex‬
‪Tel : 04 68 62 62 00‬
‪Email : info@theatredelarchipel.org‬

‪
Le Théâtre de l'Archipel‬
There is an exciting new addition to the Perpignan skyline. If you have been to Perpignan in the last few months you would have noticed a large construction along Avenue Général Leclerc and a giant concrete bubble. This bubble is ‬now‪ 'the grenat,' a large theatre space accommodating 1100 guests and the venue of the Théâtre de l'Archipel. Designed by renowned French architect Jean Nouvel, the theatre will bring a touch of prestige to the previously rundown edge of the city.‬
‪The new theatre and cultural precinct is designed to be an artistic & cultural hub for the city. Welcoming local and international artists, it is hoped the precinct will encourage a spirit of multiculturalism and social tolerance.‬
‪There is something for everyone in the season line-up including theatre, dance, circus, opera, classical & contemporary music, as well as a special programme for children. Some of the artists performing include Eric Cantona, Thomas Dutronc and Yael Naim. Ticket prices range from 11€ to 40€.‬
‪For ticket and performance information you can visit the theatre website: www.theatredelarchipel.org Here you will be able to read more about "the grenat" and take a virtual tour of the site.‬