DRAGONS DEFIANT
DRAGONS CATALAN 22 – WIGAN WARRIORS 8.
Mike Thomas. Sorede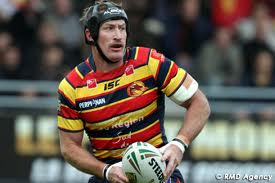 The Dragons defiant defence was the telling factor in this important victory against a somewhat below par Wigan Warriors. During a decisive 15 minute spell in the second half they held out when their famous opponents were attempting to gain the initiative. One particularly vicious tackle seemed to '' take the stuffing'' out of the lads from Wigan and appeared to have a marked psychological effect on them.
Prominent players for'' Les Drags'' were man of the match Elliott Whitehead (a Bradford Boy), wily Australian Steve ''Le Beaver'' Menzies, Catalan outside-half Bosc and the ultra-competitive Scot Ian Henderson. Nearly 9,000 fans basked in the in the early evening sunshine and relished the prospect of the Dragons achieving a place in the ''play offs'' as a result of this convincing victory.
The teams turned around at half time on level terms following a converted try apiece – Vaccari for the Dragons and Taylor for Wigan. Bosc then put the Dragons in the lead with three penalties to Richards one before'' Le Beaver'' took centre stage. The 39 year old ex-Manley man used all of his vast experience to ''sniff out'' an opportunist try that put the game beyond Wigan's reach. Pellissier scored a further try, converted by the ever reliable Bosc to put the final nail in Wigan's coffin.
Well done ''Les Drags'' and thanks for another great nights entertainment.