Fête de la Cerise, Céret
---
25th May 2019

-

26th May 2019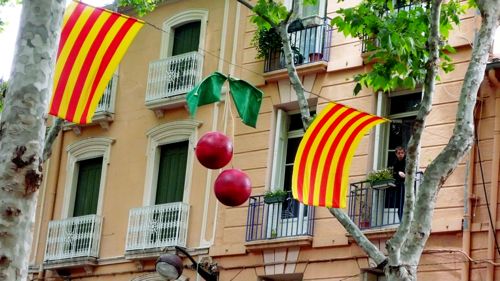 Céret cherry festival
The annual cherry festival in Céret is a colourful weekend of stone spitting, music, dancing and entertainment in the streets.
Local restaurants serve up inventive recipes involving cherries…. so why not try a glass of cherry beer, cherry wine, cherry pie, cherry pasty, cherry burger, cherries on toast, cherries with spam…?
GET THE PARTY STARTED EARLY
Saturday 11th – Sunday 26th
SOLVE THE ENIGMA
Follow the puzzle around the local restaurants and shops to solve the cherry enigma to be entered into the tombola at the end of the festival
Sunday 19th May 
BUY CHERRIES DIRECT FROM THE PRODUCERS
Why wait until the festival? Sample the renowned red fruits and support local producers… win-win!
BANDAS & MUSICAL ENTERTAINMENT, 11am – 2pm
Musical parades in the streets of th town centre
DANCING, 3pm & 4.30pm
Traditional dancing from local association Alma Sevillana, followed by Ballada de Sardanes
Wednesday 22nd May
FESTA DE LA CIRERE DELS NINS
A cherry festival for the kids- art workshops, blind cherry tastings and plenty of other surprises
Thursday 23rd May
JAM MAKING CONTEST
Artisan jam makers from across France will compete in the cherry jam making contest. At 2pm, you can have a go yourself!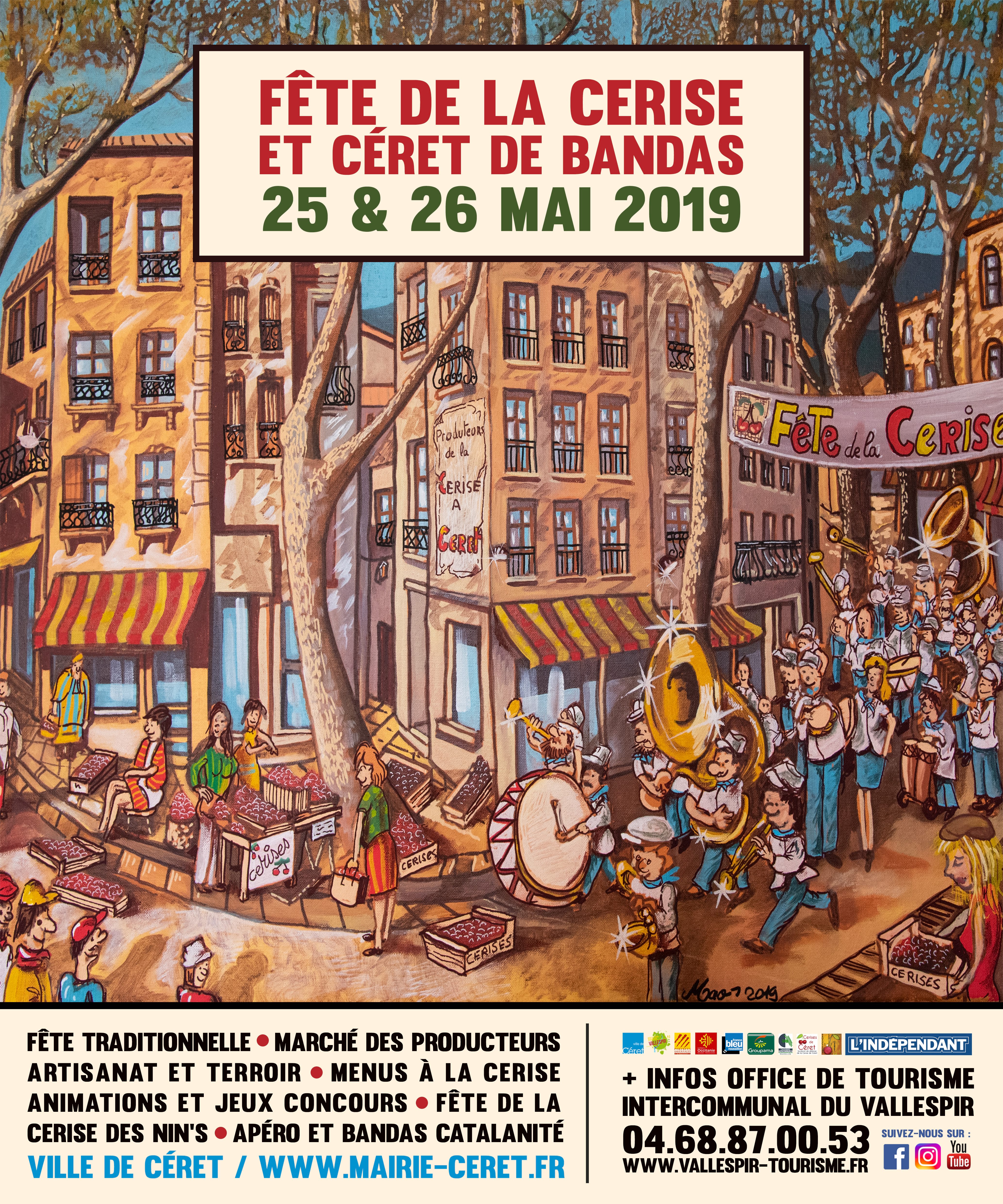 Saturday in Céret

10am – Official opening of the 26th cherry festival and bandas celebration with terroir market and parade in front of the cafés and terraces


10.30am – 1pm – Bandas entertainment, bodega and grillades in the place de la Libérté


11am – 12pm – Japanese floral art demonstration at the Mairie


2pm – 3.30pm Stilts display through the streets


3.30pm Crush your cherry- competition to remove the stone as quickly as you can at the Mairie


4pm – Official ceremony at the Mairie


4.15pm – Cherry stone spitting competition at the Mairie


6.30pm – Apero with concert in the place de la Liberté


8.30pm – Open air 3 course meal (20€ reservations at the Office de Tourisme 04 68 87 00 53) and concert at the place de la Liberté
Sunday in Céret

10am – Opening of the cherry & terroir market


10.30am – 1pm – Bandas in the streets


1.30pm – 2.30pm – Japanese floral art demonstration at the Mairie


2.30pm – Les Castellars on the boulevards


3pm – Cherry stoning competition in front of Mairie


4pm – Cherry relay race (new game for 2019) on boulevard Lafayatte


4.45pm – Ballada de Sardanes


5pm – Tombola draw for all successful completions of the enigma at the Mairie


6.30pm – Closing of the festival with prize giving at the Maire
All weekend

Shop windows decorated with a cherry theme


 Restaurants offer cherry based menus and cafés serve the latest 'cherry beer'


Japanese floral art competition (the best will be exhibited at the Musée d'art moderne)


Solve the cherry based enigma


Las bandas


Free shuttle bus taking you in and out of the centre of Céret throughout the festival. Leaves from the bridge from 10am to 12.30pm and 2pm – 6pm.
For more information, contact the Office de Tourisme on 04 68 87 00 53