Fête de la Cerise, Céret
---
Event Navigation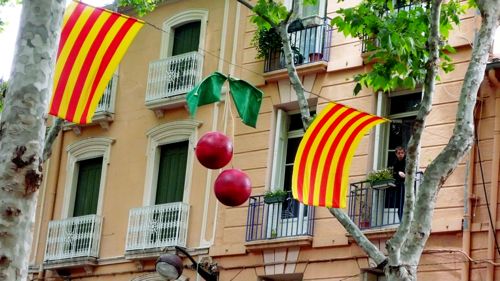 Céret Cherry festival 2023

The annual cherry festival in Céret is a colourful weekend of music, dancing and entertainment in the streets.
Local restaurants serve up inventive recipes involving cherries…. so why not try a glass of cherry beer, cherry wine, cherry pie, cherry pasty, cherry burger, cherries on toast, cherries with spam…?
From 10am on Saturday through to Sunday evening you can enjoy musical parades from local bandas, terroir and artisan market produce, Sardane dancing, guided mountain biking, games, competitions and more!
Throughout the weekend, the community kids' service will be running heaps of entertainment to keep the little ones occupied too.
There's even a free shuttle bus from the bridge to the centre of town so you don't have to worry about parking, or walking too far!
Saturday
10ham Official opening ceremony
10am – 6pm : market in the streets
10.30am / 1pm / 5pm: Bandas musical parade
12pm : BBQ, place de la Liberté
2pm : Mascotte parade & tombola at the Mairie
2.30pm : Sardane, porche Boulevard Joffre
3pm : Games & competitions, Mairie
5.30pm : Kids' tombola, Mairie
6.30pm : Apéritif & concert, place de La Liberté
8pm : Meal (reservations : 07 80 18 27 27)
Sunday
9am : cherry mountain bike circuit (20km- 35km), Lac de Saint Jean Pla de Corts (contact : 06 14 75 81 79)
10am – 6pm : market in the streets
10am : mascot parade, place de la Catalane
10.30am / 1pm : Bandas musical parade
2.30pm : Kids' tombola, Mairie
3pm : Games & competitions, Mairie
3.30pm : Sardanes, place Picasso
For more info
Contact the Office de Tourisme in Céret
Tel: 04 68 87 00 53