Féria & Céret de Toros
---
10th July 2019

-

14th July 2019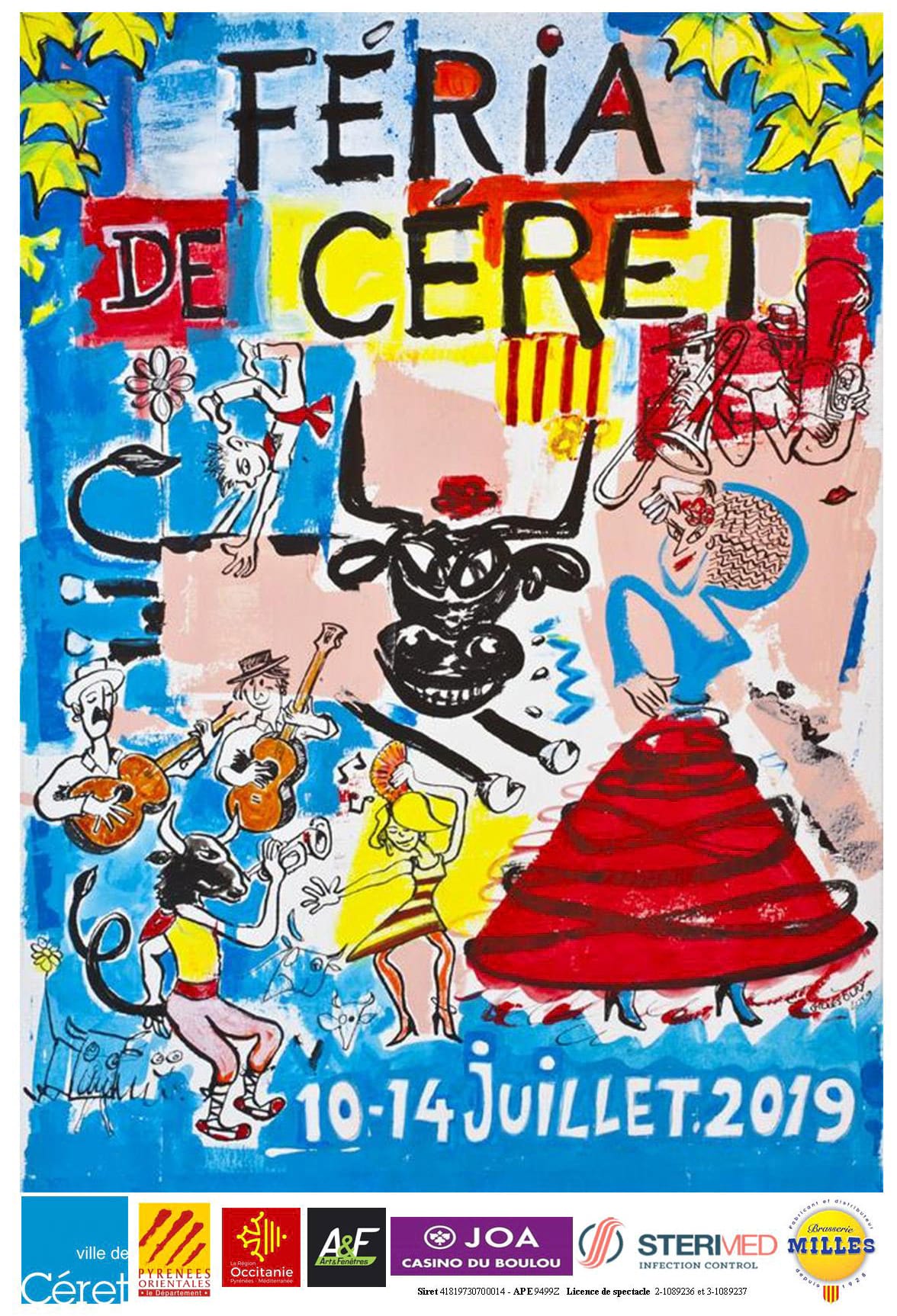 Céret Feria – Five Days of Bull
This annual bullfighting festival, complete with bull running through the streets, markets, bands and street entertainment is a big event in Céret, and indeed in the whole of the P-O… but be warned, it's not for everyone!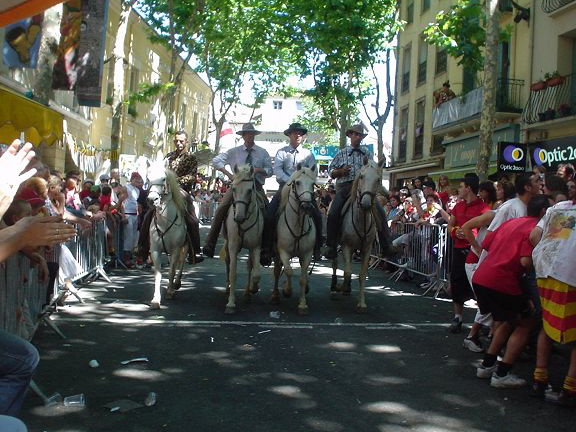 The Féria and Céret de Toros weekend attracts an enormous amount of criticism and generates heated controversy, as much for the staggering drunkenness, which seems to be 'de rigeur' on the Friday and Saturday nights, as the perceived animal cruelty of these bullfights to the death, which take place in the purpose built bullring just out of town.
The Céret de Toros weekend has been going since the early 1990s but they are now finding it harder and harder to find corridas (bull fighters) to invite to the festival.
However, if you DO enjoy watching macho men on horseback run the bulls through the town to, later on in the arena, slaughter them in this fine sport, then don't miss the Feria Céret de Toros!
If like me, you find the whole process obnoxious, the Céret bullring is a place to avoid on this particular weekend. There are other festivities and it is a weekend of celebration, excitement, colour, dancing, drinking and music, which can all be enjoyed without the horror of the bullfight, as the bullring is out of the centre of Céret.
The weekend itself, bulls apart, is two days of excessive everything – drinking, eating, market, music, street entertainment… and on Saturday, continuing throughout the night, more than the bulls gets slaughtered!!
All cafes and restaurants are closed (and some are covered in plastic in anticipation!!), or have outside stands, because food and drink, from a full meal to a burger, is on sale from the many 'bodegas' (street bars), run by the different 'associations' of Céret.
Please note, this is not for the faint-hearted, particularly late evening onwards if you are sober!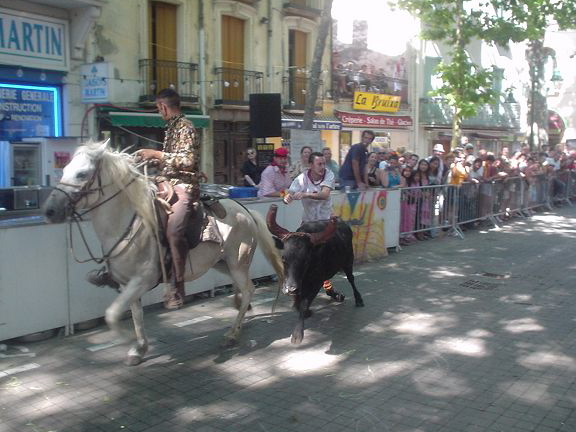 On the Saturday and Sunday afternoon, (check times with the Céret tourist office for exact details) many find the running of the 'vachettes' quite exciting. The vachettes, confused and unhappy calves, with bull horns on their heads, are herded back and forth amongst the crowds by cowboys on horseback, while brave (?) and drunken spectators jump in front of them and try to grab the calf's tail. READ MORE HERE.
Excerpt from Kate's online diary
Bulls are not the only animals to get slaughtered in Céret over the féria weekend! Céret last night was a seething mass of bodies in various stages of undress, swaying and staggering, swilling down beer and pastis, wine and spirits, screaming, dancing, laughing, vomiting and peeing against walls – and generally having a great time! It seems to be the aim of the Céretan, from 16 to 70 years old, normally a measured and sober citizen, to get absolutely wasted over this particular festival weekend.
I love to see people having a good time, but not when they've just lurched into me, poured pastis down my leg and are now peeing up against a nearby shop window!! (although I suppose it would have been worse if it had been the other way round!)
There were quite a few gendarmes at the fête, waiting to catch drink-drivers on the way home no doubt –  and most of them seemed to be drinking! I suppose they would be the only ones who could be sure of not being breathalised!
All this went on until early this morning (by which time I had been tucked up in bed for several hours) and, after a couple of hours off for good behaviour, began again this morning at 10h00!