14 July Fete Nationale
---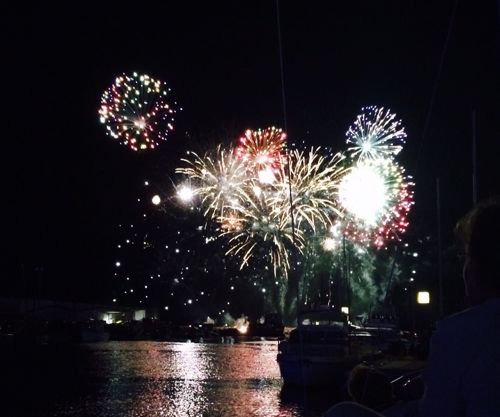 FETE NATIONALE CELEBRATIONS

La Fête de la Bastille or Fête Nationale marks the storming of the Bastille prison in 1789 and the beginning of the French Revolution.
The Bastille was seen as a symbol of the absolute power of Louis the 16th's Regime and its storming and defeat represented a symbol of liberty in the fight against perceived oppression of French citizens by the Monarchy.
Bastille Day was declared a French national holiday in 1880, a celebration of the birth of the Republic.
Processions, fireworks, dancing, and a lot of celebrating mark the event every year throughout France.
SOME KIND OF EVENT WILL TAKE PLACE IN MOST TOWNS AND VILLAGES.
The following are examples of  events that take place every year on the 13th, 14th or both. THEY ARE NOT DEFINITIVE. Please contact your local tourist office for exact days, times and places.
13th
Argeles-sur-Mer 
23h – Fireworks – village
Canet-en-Roussillon
22h30 – Fireworks and disco, son et lum!ère – plage centrale & Place Méditerranée
Font-Romeu
21h – Fireworks and bal – village
Formiguères
21h – concert and fireworks – village
Port Barcarès
23h – fireworks – Place de la République
Serdinya
22h – Firework display from the church bell tower
Thuir
19h30 – Live music and dancing in the place
Vernet-les-bains
21h – bal and fireworks – Place de la République & Pont du Rudyard Kipling
14th
Argeles-sur-Mer
23h – Fireworks – port
Banyuls-sur-Mer 
Sardane and bal, place paul reig
Canet-en-Roussillon
21H00 Grand bal des pompiers with son et lumière – village
Céret
22h30 – Fireworks and concert
Font-Romeu
10h – Parade – village
Perpignan
21h30 – concert and fireworks – Castillet
Port Barcares
10h – parade – grande plage
Port Vendres
Sardinade,  bodegas
fanfare and procession of vintage cars from 39/45
Bal and fireworks

Prades
21:30 bal with fireworks and son et lumière show.
Saint Cyprien
BBQ, concert and firework display