There is so much more to the Pyrénées-Orientales than a beach and mountain holiday.
The rich heritage and history of the Catalan culture, in war and peace, has left its mark on the architecture, culture, and way of life in the Roussillon.
Whether you are interested in sport, architecture, art, singing and dancing, scenery, shopping, water parks, theme parks, there really is something for everyone.
Below you will find a selection of the many places to visit in the region with times and prices where applicable, or available. It is far from exhaustive. Please do not hesitate to contact me if you have any regional attractions to add.
Gorges de la Fou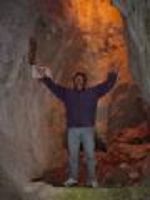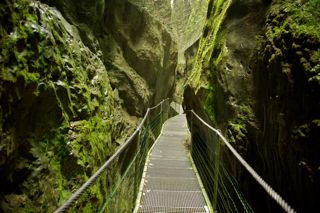 Open from April to November 10H – 18H
Admission: 5€ – 10€
How to get there : Take the road from Amélie-les-Bains to Prats-de-Mollo and you will find it on your right not far after Arles-sur-Tech
Address: Route de Prats-de-Mollo 66150 Arles-sur-Tech
Tel: 04 68 39 16 21
Site www.gorgesdelafou.com
A unique geological formation created by a fault in the rock, about 200m deep.
This walk will take you through the gorge, past caves and waterfalls and up to a platform where you can sit and admire the view.
You will be issued with a hard hat on entry, just in case!
I enjoyed my visit to the Gorges but didn't like the fact that, when you got to the end, all you could do was come back down on the same path – I like circuits!
You don't need to be particularly fit for this visit, but the path does climb and has quite a few steps. Count on taking 45mins to an hour to walk up and back. There is also a shop and café on site and a free carpark.
---
Grottes des Canalettes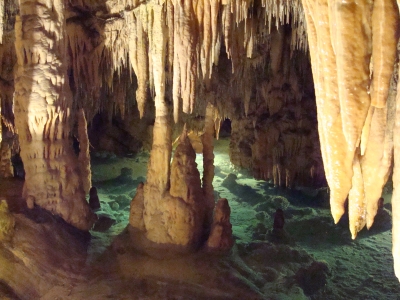 Open: All year – 10h00/10h30 – 17h30/18h00 depending on season (worth ringing to check in advance)
Admission: 6€ – 15€ for both caves.
How to get there: From Perpignan, take the RN 116 towards Andorra passing through Prades. Villefranche de Conflent and the Grottes des Canalettes are clearly indicated.
Address: 2 rue St. Jacques, 66500 Villefranche de Conflent
Tel: 04 68 05 20 20/06 07 27 11 31
E mail: infos@3grottes.com
Site: grottescanalettes.com
A site of 3 caves near the medieval town of Villefranche de Conflent, all within a circuit of 500 metres.
The Grottes de Canalettes was opened in 1954 by the Castillo family. In 2003 it merged with the Grandes Canalettes that were opened in 1984 by the Delonca family. Bernard Castillo then joined the other two caves creating the Cova Bastera, a third unit out of these very different and complementary caves which is unique in Europe.
These fascinating caves, have been formed naturally by the slow effect of water on the rockface, trickling down and gradually forming underground rivers which have created the caves through the process of erosion. The underground rivers have hewn passages out of the solid rock, sculptured the walls and created vast chambers furnished with stalagmite, stalagtites and coloured pillars of mineral rock. Each cave has a name according to the shapes of its stalagmites and stalactites, such as La Sagrada Familia after Gaudi's famous architecture in Barcelona.
At the end of the visit, after following a man-made pathway for visitors, passing through the caves, there is a 'son et lumiere' in the auditorium to illustrate the colours of the minerals along with the music of Strauss, Bach, Casals, Pavarotti. All very fascinating and beautiful (but not for the claustrophobic although the trail is wide and high!)
There is a constant temperature of 14° – worth taking a 'woolie' if you get chilly easily.
Riverside picnic area, bar and shop on site.
---
Mont Oz'Arbres Adventure Theme Park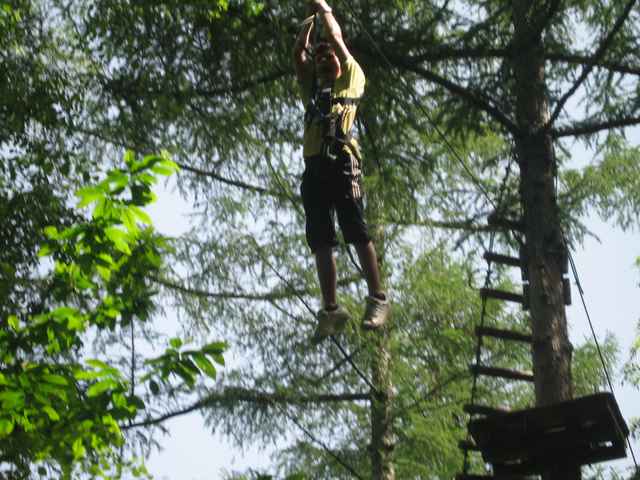 Open: April to November 9h30 – 19h30/20h30 depending on time of year.
Admission: From 7€ to 25€
How to get there From Le Boulou (last exit on the motorway before Spain), Take direction Prats-de-Mollo La Preste, passing through Amélie-les-Bains and Arles-sur-Tech.
Address: Le Galliné, Route d'Espagne 66230 Prats de Mollo La Preste
Tel : 04 68 22 43 55/06 19 23 88 41
Site: www.montozarbres.com
Constructed on the site of a former 'pépinière' (garden centre), this adventure park is a whole lot of fun! It offers a range of sporting and nature activities for all ages; tree and rock face climbing, picnic and play area, guided walks and climbs with registered 'moniteurs'. Why not try the 'Space jump', a 400m long tyrolienne 40m from the ground. Slide down to the bottom of the valley of speeds of up to 60KMH.
Rustic accomodation or a night in a hammock are also available at a very reasonable price which includes breakfast and all park activities.
Great for teens – a bit of a challenge involved but safe and well supervised.
---
Les Aigles de Valmy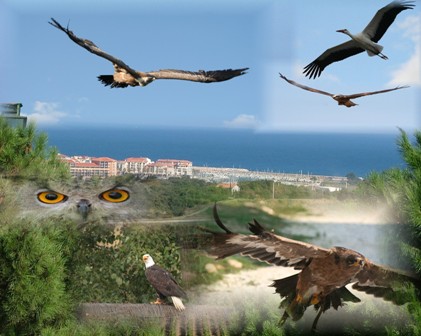 Open: April to November 14h – 18h30
Admission: Adults 9.50 euros
Children: 6.50 euros
How to get there: From Perpignan, take the RN114, direction Collioure/Port Vendres. Leave the dual carriage way at exit 12 and Valmy is signposted from there.
Address: Chemin de Valmy, Route de Collioure, 66700 Argelès-sur-mer
Tel: 04 68 81 67 32
SITE
Eagles, cormorants, owls, and other feathered animals. Performances of birds in free flight, daily at 14h30 and 15h45
Shop and café on site
Mini farm with donkeys, goats, pigs and geese and Indian village.
MORE
---
Réserve Africaine de Sigean (Safari Park)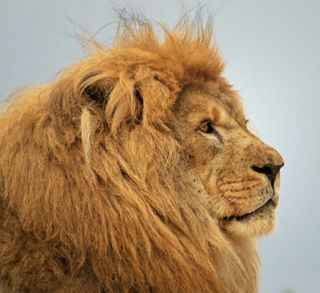 Open: April to September
Admission: 23€ – 32€
Address: Réserve Africaine de Sigean 11130 Sigean
Tel: +33 (0) 4 68 48 80 85
Email: ra.sigean@wanadoo.fr
Web site: www.reserveafricainesigean.fr
How to get there: (15 km south of Narbonne) From Narbonne, take the RN 9, direction Perpignan
More than 3,800 animals in 300 hectares of nature reserve. Lions, bears, alligators, giraffes, rhinos, flamingos, bears, monkeys…… On a 6 kilometre circuit, you are able to drive around this park and look at the animals from your car. There is also a walking circuit of 2 to 3 hours to see the less dangerous animals!
Cafeteria on site.
Don't forget to take your binoculars.
Your comments
The last time we were there was in September and we really noticed the difference – much more crowded and very hot this time! Many of the larger animals were sleeping in the shade – except for the ostriches and Zebras which were wandering around.
It is a really great place to take smaller children – there are plenty of catering facilities and a special enclosure where kids can climb over the fence (ladder!) and play with the "chèvres nains" (very small goats). There are always babies to pet and captivate the "little ones"!
If you do the full tour (car safari – then the full walking tour) then you will be walking at least 5 kilometers so appropriate footwear needed!!
The car "safari" is for the larger more dangerous animals and the walking tour also passes certain areas where one looks down into fenced enclosures with packs of African wild dogs, cheetah, etc. where you keep a close eye on young potential fence climbers!!! Because these areas are well below the bridge you cross, the fence is low enough for an adult to lean on – and for me that means potentially dangerous – especially among a pack of wild dogs!!
---
Tautavel Centre Européen de Préhistoire
A journey back in time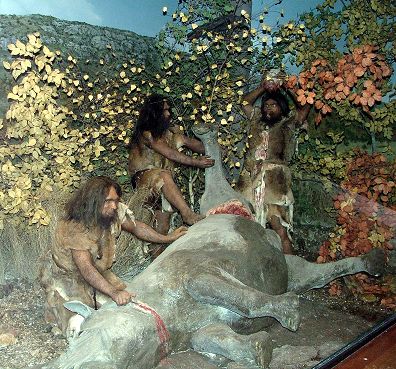 Open: All year
Admission: 4 – 8 euros
Address: Avenue Léon-Jean Grégory
66 720 TAUTAVEL
How to get there: From Perpignan, take the D117 direction Estagel turning off onto the D9 for Tautavel. The museum is well signposted at 2 km from the village centre.
Tel : 04.68.29.07.76
Email : contact@450000ans.com
Site Internet : www.450000ans.com
With 22 different rooms,including the reconstruction of the original cave, you get the chance to meet the Tautavel Man and see how he lived. Interactive visits with english receiver.
Seven years after archaeological work was first begun in earnest on La Caune de l'Arago in 1964, Professor de Lumley initiated the building of the Musée de Préhistoire de Tautavel in which to display to the world the remains found in the grotto. The museum was completed in 1979 and now contains more than 600,000 discovered objects of which 128 are human remains. They are stored in more than 20,000 drawers.
The remains have not been found on just one level in the grotto; rather on 40 sedimented layers or "floors", each separated by sterile sand, to a total depth of 11 metres. These separate floors were created by either violent winds or heavy rain in different climactic periods.
A research laboratory was created in 1992, now known as the European centre of prehistoric research, of which the Professor is president. The word European is pertinent because work is carried out on prehistoric specimens from all over Europe, and indeed from anywhere else in the world.
In the top ten
Little wonder that the museum, with its 22 exhibition rooms, is amongst the ten most popular heritage sites visited in the Languedoc-Roussillon.
---
La Vallée des Tortues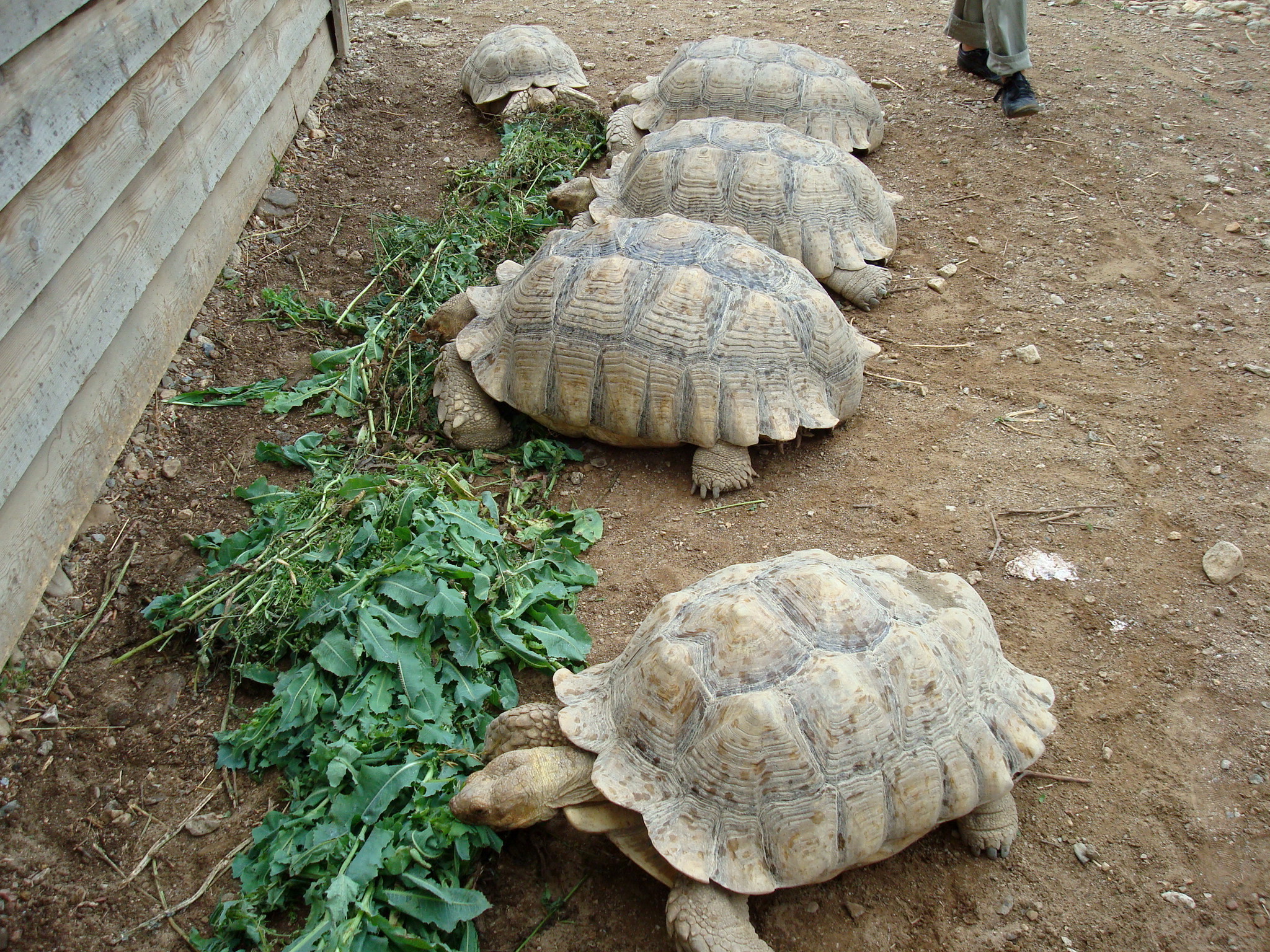 Open: From November to March open by appointment. (Contact on 06.74.18.92.11). Rest of year from 9h or 10h until 18h or 19h, depending on time of year
Length of visit: 1h30 – 2hrs
Address: Mas del Ca, " La Vallée Heureuse " BP 15 – 66690 SOREDE
mail: contact@lavalleedestortues.com
Admission: 8 – 10 euros (reductions for prebooking – see website)
For guided tours, ring 04 68 95 50 50
How to get there: From Perpignan, take direction Argelès-sur-Mer (N114) and exit at Sorède
Situated in the middle of the vallée heureuse at Sorède, you can enjoy nearly 35 different species of tortoise from all over the world.
Amongst the 35 different species of tortoise in this naturally created conservation zone, you will find the giant tortoise of the Seychelles, La tortue Hermann, the only French land tortoise and its babies, the Radiata de Madagascarthe, said to be one of the most beautiful tortoise in the world and many more.
---
Aqualand (St Cyprien)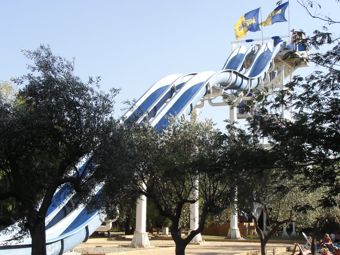 Open: June – September – 10h00 – 19h00
Admission: Adults – 22€ Children – 16&euro
Address: Chemin Du Mas Des Capellans Bp 68 F-66750 SAINT CYPRIEN
Tel: (33) 4 68 21 49 49
E mail: stcyprien@aqualand.fr
How to get there: 20 km south of Perpignan, direct acces via the D81 from Perpignan – St Cyprien (between Saint-Cyprien and Argelès-Plage).
Water adventure park – great fun for all age groups – a day out for the whole family.
Water slides, rapids, wave pools, the Black Hole, the Anaconda …… restaurants, cafés and shops on site as well as lifeguards and medical facilities. Not cheap so worth going first thing in the morning and spending the whole day there to really get your money's worth.
---
Parc Animalier des Angles
Open: All year round. Winter – 09h – 17h Summer 09h – 18h (annual closing: November and early December)
Admission: Adults – 8€ Children – 6,50&euro
Address: Parc Animalier des Angles, B.P. 10, 66210 Les Angles
Tel: +(33) 4 68 04 17 20
e mail: parcanimalier@aol.com
Site: www.les-angles.com/lesangles
At an altitude of 1,800m, unique in the Pyrenees, this park next to te popular ski resort of Les Angles, is full of local wildlife such as wild boar, bears, bison and wolves, reindeer, deer, the marmot……… Two walking circuits allow you to discover the wild animals of the Pyrenees in their natural mountain setting. The longer circuit is 3,500m and the shorter 1,500m. There are picnic areas, and ample parking. Dogs are not allowed. Good walking shoes are recommended.
---
Le Parc Animalier de Casteil (Casteil animal park)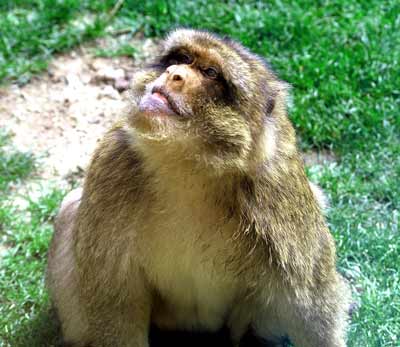 Admission: 9 to 11 euros
Open: February to December
Tel: 04 68 05 67 54
Address: Rue du Cady, 66 820 Casteil
E mail: cases.ju@gmail.com
A "small but delightful" zoological park, close to the village of Casteil, which is located 2 km up the Cady valley from Vernet. Established by a local family, the park is home to lions, bears, monkeys, a llama, deer, and several species of bird. Children and adults alike will love it. Two walking circuits of 2.5 and 3.5 kms allow you to enjoy both the animals and nature. Situated at the foot of the Canigou, in the pretty village of Casteil, the animal park is spread out over more than 20 hectares, at an altitude of 797 to 967 metres.
---
Le Royaume des Lutins
Address: Lieu-dit la Traversa, 66200 Théza
Tel: 04 68 22 45 79
Admission: 7 – 9 euros
Access: Théza, between Perpignan and Collioure
Exit 5 from the D914.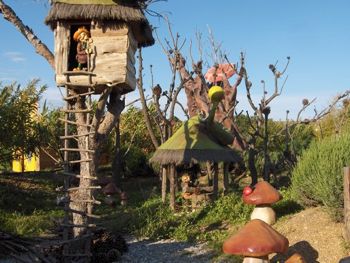 A world of imagination and dreams, this theme park based around the Kingdom of Elves, is a great family outing.
Gulliver's Lilliputians, magic forest with observation games and puzzles to solve, robots on a circus theme who perform for you at the push of a button, a maze of illusion, elves' paradise, unicorn, dragons…. Delightful walks around the park, zen and relaxing, with plenty of excitement for the children?
---
Cal Mateu – Ferme Eco-pédagogique
Musée de Cerdagne
Sainte Léocadie 66800
Tél: 06.78.17.64.19
Tel bis: 06.43.23.64.04
La Ferme Calmateu
St Léocadie
The oldest in farm Cerdanya offers:
☛ Fun and educational activities for children on farm and environment
themes of the
☛ Personalised guided tours
FIND OUT MORE[/vc_column_text][/vc_column][/vc_row]