Filmed in Montpellier: Battle of the Year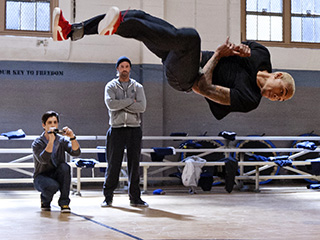 Benson Lee's fictional movie "Battle of the Year," starring Chris Brown, is a scripted remake of his own 2007 nonfiction break-dancing film, "Planet B-Boy."
Battle of the Year, or BOTY, is actually a real annual international event held in Montpellier.
It is a crew (as opposed to individual) competition with regional qualifying tournaments worldwide, culminating in the BOTY International, the world finals event which has been held in Montpelier since 2010.
Benson Lee originally filmed a documentary on the Battle of the Year called Planet B-Boy.
The Plot
The tournament has been held every year, attracting the best teams from around the world, but the Americans haven't actually won it in fifteen years. In the fictional film,
Los Angeles Hip Hop mogul and former B-Boy Dante want to put the country that started the sport back on top. He enlists his friend Blake, who was a championship basketball coach, to coach his team.
Armed with the theory that the right coach can make any team champions, they assemble a Dream Team of all the best b-boys across the country. With only three months until Battle of the Year,
Blake has to use every tactic he knows to get twelve talented individuals to come together as a team if they're going to bring the Trophy back to America where it started.
The film has has negative reviews, described as having "a hopelessly hokey plot and unintentionally hilarious dialogue….flimsy even by the standards of the dance movie genre," BUT it was partly filmed in Montpellier in November 2011 so might interest lovers of that dynamic town.
Out now.